Last Sunday was the 24th Annual South Broward Wheelers Century Ride. I rode this year for the first and last time.
My Best Performance Ride Ever
At the end of the day, I had gone 105 miles at roughly 17 miles an hour.
That is one mile an hour faster than I did the shorter (75 miles) Memphis MS-150 in September. Even my previous metrics were done slower. My first century was done in December 2007 at a rate of 13.5 miles an hour. So, no matter how you slice it, I totally killed this ride.
Great Weather
The weather for Sunday's ride was awesome. When I rolled into Brian Piccolo Park, it was 64 degrees. I put my leg warmers on and didn't take them off until I was done. By the time I finished the century and drove off, it had only gotten to 80 degrees.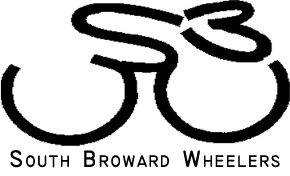 Except for a nasty headwind for the last 25 or so miles, the weather was perfect. It was overcast all day so we never got too hot or sunburnt.
Even at the end of the ride, after a bit less than six hours in the saddle, I was ready to go for more miles. I assure you, that wasn't my conditioning so much as the weather.
Good People
Mike the mechanic saved my ride.
About ten minutes before the start, I clipped in to my Crank Brothers Eggbeater Pedals and started riding around the parking lot to warm up. I heard the announcement to head to the start. I got to the start and tried to unclip. I couldn't. With three minutes until launch, I couldn't get my shoe off the pedal.
The shoe was spinning on the cleat and would not release. I had to take my foot out of the shoe in order to get off the bike. Fortunately, it was my second to release shoe that was busticated. Had it been my left shoe, I'm sure I would have made a (bigger) fool of myself in front of an estimated 400 riders.
Mike said I was missing a screw and, though he didn't have an exact fit, was able to find something close enough so that I could ride. Thanks, Mike!
Also, thanks to rider 181 and his group. For the last eight miles into the wind, I tucked in with them. Very nice people who were willing to pick up a stray.
Food & Drink: About Every 20 Miles
For serious cyclists, 20 miles is about right for rest stops. For folks with a little less experience, 10 or 15 miles would be better.
(That's a good point to note: This ride leans toward serious cyclists. This is not an MS-150 style charity ride. I never saw a sag wagon on the course though I did see them in the parking lot before the start. There were far more $7,000 bikes than $300 bikes. Nothing wrong with this, of course, just set your expectations accordingly.)
The food options were solid but lacked variety. Bananas, oranges and chocolate chip and Oreo Cookies were plentiful as were water and sports drinks. Peanut butter and jelly sandwiches were available. The only rest stop that really stood out was the one at Welleby Park. It had Oreo cookies with peanut butter and a banana slice on top. There might even have been M&Ms on some. It was unique and yummy.
How to Prevent Flat Tires
I saw a guy on the side of the road early in the day and asked if he needed help. He needed a tube. He flatted and then managed to pinch his spare tube. I gave him my only spare tube and he got that one on and inflated.
My thinking was that I haven't changed a flat in at least ten years and if that guy — obviously more experience than I am — couldn't do it, I probably couldn't do it either. So, I'd rather have the good Karma and no tube than a tube I'd never be able to get up and running.
My gamble paid off. No flats for me Sunday!
Ugly: Lots and Lots of Ugly
It wasn't a pretty ride. The route was so bad, I wouldn't do this ride again.
Given the growth of Broward County, I'm sure the the South Broward Wheelers did the best they could do given their options. Still, it was ugly.
I don't think a single segment of the ride was longer than five miles. Further, there were a lot more 'turn right in one-tenth of a mile' lines on the cue sheet than 'ride through beautiful countryside for the next 45 minutes'. There were plenty of stop lights and stop signs.

Traffic volume was low as it was early Sunday. Still, for too much of the ride, we were on divided highways with cars zipping by in excess of 45 miles an hour.
Since the individual segments were so short, it was really hard to get up a rhythm. There were lots of starts and stops. Right about the time a group had settled into a pace, it was time to stop. Constantly regrouping caused for some uneven riding. It wasn't comfortable.
South Broward Wheelers
I'm glad I did the 2008 Century Ride but won't do it again. There are too many good roads in South Florida to spend half a day on this route.
That said, based on the people I met and the organizational quality of the ride, the SBW seems like a good bike club. Proceeds of this ride support local charities with a strong focus on children. In fact, since 2002, they have donated over 1,000 new bikes with helmets. Anything that gets more people to ride is okay in my book.
If you're in the Broward area, please check out the South Broward Wheelers.
—Matt