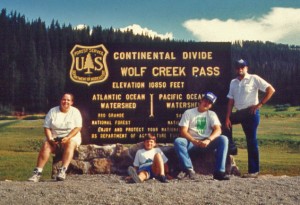 No family trip with the boys would have been complete without playing our Cars & Trucks mix tape including
Looking for the fast route
We were ready to come home after a great vacation, so we picked the fastest route: backwoods from Cape to I-24 through Nashville and Chattanooga, then I-75 through Atlanta to Wildwood, where we picked up the Florida Turnpike to West Palm Beach.
Mountain wants your rig
And the devil wants your soul if you let 'er roll down Monteagle Mountain, sings Johnny Cash.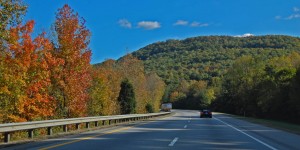 Monteagle pass, over the Eastern Continental Divide, is considered one of the most hazardous stretches of Interstate highway in the country. The 4% to 6% grade isn't as steep as a stretch on I-40 between Nashville and Knoxville, but it goes on for miles.
Runaway truck ramps
Cash goes on to sing,
When I started down Monteagle, the brakes just wouldn't hold.
I knew I was in trouble and bout to lose control.
The runaway ramp was waitin'; I saw the warnin' sign.
I said, "Lord help me make it. Have mercy on this soul of mine."
Well, I plowed into that runaway ramp and I could feel that big truck groan.
My life flashed right before my eyes and for a minute I thought I was gone.
What saved him was one of two runaway truck ramps on the left-hand side of the downhill grade. They are an uphill ramp of loose gravel that will quickly slow down a truck whose brakes have failed.
Wrecks common
One night we were coming off Monteagle and got caught in a huge traffic slowdown. We could smell burning brakes all around us because the trucks were having to ride them going down the mountain. When we got to the bottom, we saw a burned-out 18-wheeler that had caught fire from its overheated brakes.
I keep a close eye on my rearview mirror on that stretch. The last thing I want is to be a speed bump in front of a runaway tanker truck.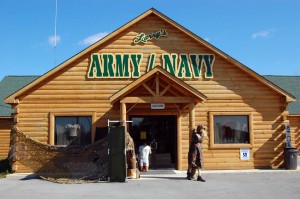 Larry's Army / Navy Store
Larry's Army / Navy Store at Exit 135 near the crest of the mountain is a good place to kill some time.
He moved from his old place two years ago to a convenient location next to a truck stop. It has plenty of parking and clean restrooms.
Old place was in the boonies
We heard about Larry from a flyer we picked up at the Smoke House (which used to have excellent home cooking, but has slipped).
The directions to the old store reminded me of the lines from McCall's Classified, "I says, "Where are ya?" He says, "Fourteen east on County 12, turn right on the one-lane gravel road, you can park in the yard, beware of the dog, wipe your feet off, knock three times, and bring your billfold."
In business since '92
Larry and his wife, Nicole, have been in business since 1992. Their old place drew most locals – 80-85% – while the new one draws about 50% from the area and 50% from Interstate traffic. "We didn't lose any local business, and we picked up a lot of tourists," he said.
Need a ghillie suit?
The store is clean, well-lit and carries all the standard surplus fare, including ghille suits for snipers (or hunters), plenty of cold weather gear and boots.
Authentic surplus gear is getting harder to get, Larry said, so a lot of his stock is new, made to government specs. Some customers want the used stuff, others feel more comfortable buying never-worn clothing.
Rocking horse not for sale
We've seen Larry and Nicole's kids grow up in the store in our stops over the years.
Cole, described as manager-in-training by Larry, is 15 months old.
The gas mask is for sale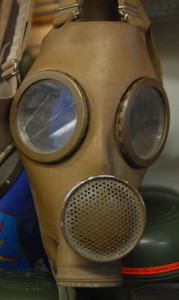 Along with helmets, long johns, ammo cases, insignia, name labels ( a bargain if you have the right name), collectibles, Army blankets (a good buy, we found out a few years back), canteens and camping supplies. We've never gone in without buying something for us or a friend or relative (my brother-in-law is getting a pair of super-warm polypropylene underwear for hunting season, but don't spoil the surprise).
Sarah's cute as a bug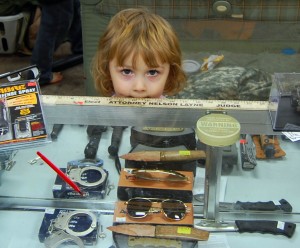 Nobody's a stranger to 3-year-old Sarah, who roamed in the store in a walker the last time we saw her.
Minutes after becoming reacquainted with her, she was chattering away with Wife Lila, and comparing socks.
Happy with her socks
(Wife Lila had just bought a pair of warm socks up the road at  Mountain Outfitters and she was particularly pleased with them and herself. That's another nice stop. We were disappointed to see a wine store where they used to be, but we were pleased to see that they had moved into a new, bigger store just down the road at Exit 134. Their focus has changed from being an outlet store, so their prices are higher than they used to be, but the folks are very friendly and helpful.)
Time to say goodbye
After settling up with Larry, it was time to say goodbye to Sarah and her brother, Joshua, 7, and get on down the road.
As we entered the downhill grade of Monteagle Pass, Harry Chapin's tale about the young driver hauling 30,000 pounds of bananas who missed the "Shift to lower gear or or $50 fine, my friend" sign popped into my head.
He barely made the sweeping curve that led into the steepest grade.
And he missed the thankful passing bus at ninety miles an hour.
And he said "God, make it a dream!"
as he rode his last ride down.
And he sideswiped nineteen neat parked cars,
clipped off thirteen telephone poles,
hit two houses, bruised eight trees,
and Blue-Crossed seven people.
it was then he lost his head,
not to mention an arm or two before he stopped.
And he slid for four hundred yards
along the hill that leads into Scranton, Pennsylvania.
All those thirty thousand pounds of bananas.
I shifted from 4 to 3 and pumped the brakes all the way down, checking the rearview mirror frequently, "'cause when there's a runaway on Monteagle some truckers don't survive."