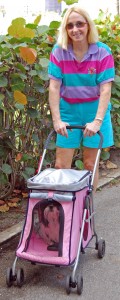 Today was such a perfect Florida riding day I thought I'd head over to the Palm Beach Lake Trail to talk with some of the folks using the path. Son Adam said he'd meet me along the way.
Diane Buxbomb of West Palm Beach, was the first person I encountered after joining the trail at the Middle Bridge. She was accompanied by Shushu or ShuShu. [I'm really not up on the spelling conventions of small dogs in pink chariots.]
Diane says she's on the trail about once a week, sometimes with Shushu (ShuShu), sometimes on her bike.
Joey was the second dog encounter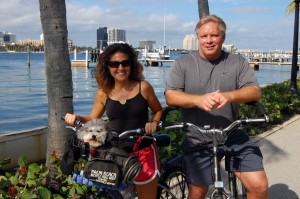 It looked like it was going to be a Dog Day Afternoon because Joey was the next thing that caught my eye on the trail.
He was riding with Mary Frei and Ed Ferguson, who said that 90% of their riding is done on the Lake Trail.
We didn't have much time to talk because Ed said they had to hurry to get home before the football game started.
Oh, so THAT'S why the streets are quiet.
Bennett was trying out his new bike
Adam caught up to me just before we encountered Brad, Lori and Bennett, 6, south of the Biltmore on the way back to their Palm Beach home. I doubt that Bennett knew that the Lake Trail was originally built by Henry Flagler in 1894 to give his guests a place to stroll, but he was enjoying it anyway.
My memory may be slipping, but I think the trail may have been renovated as part of the 1976 Bicentennial Year celebration. At any rate, it's one of the most used linear parks in the area.
First they bike, then they play tennis
This group of folks from the Jupiter area had already been to the Inlet where Palm Beach Docks Annie used to live and was sitting down to enjoy lunch.
They aren't a "bike club," one of them explained. They are a group of friends who like to bike. After their ride, they were planning to play tennis.
(In case anyone was wondering, it takes a lot of effort to shoot a picture where virtually everyone is chewing on something.)
Dave Rosenthal's first ride since knee surgery
Dave Rosenthal said he was having a good ride, all things considered. This was the first long ride since he had knee injury back in September. And, yes, he had been a runner.
While we were talking he commented that he had seen our headlights and taillights, but wanted to show us something his wife had bought for him: some Nite Ize SpokeLits to go between the spokes on his front and back wheels.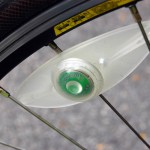 He has a red one on the front wheel and a green one on the rear one. They don't put out a lot of light to the rear, but he says they are very effective from the sides.
He thinks they might have helped him when he was hit by a motorist who was "driving like a U-Boat commander." (Click on the link to hear him describe it.) He can laugh about it now, but it wasn't funny at the time.
Kathy Strongin rode it for the first time yesterday
And she liked it well enough to drag her visiting grad student daughter from Seattle along today. "I wanted her to experience it. It was beautiful," Kathy said. "This is like the best-kept secret."
"Do you ride in Seattle?" we asked Jenna.
"My roommates do," she dodged. (We took that to be a "no.")
Kathy lives in Wellington and rides in her neighborhood, but I suspect I'll see her on the Lake Trail again.
The Randalls came up by Tri-Rail
John Randall from Clearwater and Doreen Knoll from Portland, OR, hopped on a Tri-Rail with David and Jo Alice Randall from Hollywood, FL, to ride the Lake Trail.
I never realized you could take bikes on the local commuter trains. It would be a great way to go south from West Palm Beach to Broward and Dade counties without fighting traffic and the hassles of parking.
I wish the Dolphins had made it to the Superbowl
Not because I give two figs about football, but because the roads were deserted on my way home. It would be great to have that happen more often.