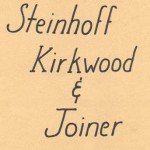 I mentioned that my mother and I journeyed down Highway 61 while scouting out the New Madrid Earthquake bike route.
On the way south, we looked for a piece of property that my dad's construction company owned in the late 50s.
Dad BUILT Route W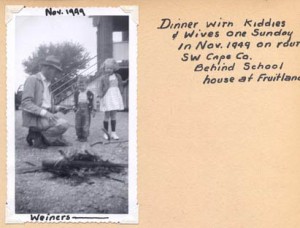 Steinhoff, Kirkwood and Joiner built roads and bridges all over Southeast Missouri in the 50s through the 70s. When I read Southeast Missourian Speak Out folks griping about cyclists on Route W, I think to myself, my dad BUILT Route W. I guess that gives me some right to ride on it.
Needed place to store equipment
Before long, SK&J needed a place to store equipment and a garage big enough to work on bulldozers and other earthmoving equipment.
They bought this land between Scott City and Benton and put up a mechanic's shed / garage, a shed and several tool buildings.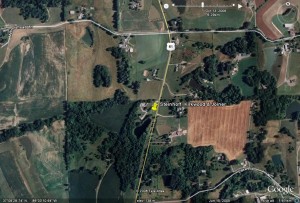 Dad always wanted a big pond, so they built one on the property and stocked it with bass, crappie, blugills and catfish.
Water moccasins, turtles came on their own
I was an avid fly fisherman and loved to spend hours at the pond. The only bad thing was that you risked sharing your catch with the turtles and water moccasins.
I remember one day that dad and I had a huge stringer of fish we were looking forward to eating. One of us pulled up the stringer to add a new catch and discovered a good-sized moccasin hanging from it.
(1) It doesn't take a Steinhoff long to look at a snake. (2) We decided that he wanted that stringer of fish more than we did.
We finally found it
After passing by a couple of likely candidates, we doubled back to a property with a pond, a mobile home, a huge brick home and a hundred plastic Halloween pumpkins in front of it.
Jim Pinkston and his son, Jamie, 20, were picking up some limbs when we pulled up.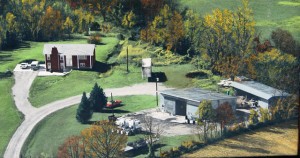 Jim knew right away what we were talking about and he was kind enough to share this colorized aerial photo taken shortly after his father built the house at left.
"My dad bought the property in 1969 or 1970. It included the garage, shed, some tool sheds, a loading dock and 7-1/2 acres of land with the pond," Jim said.
"He had a trucking business, so the garage was a perfect shop for him," he continued. They hauled Styrofoam sheets for Dow when it was in Cape. They used damaged sheets on the inside of the garage for insulation.
Could fit four semis inside
Since it was used for heavy equipment, the building had a slab more than a foot thick and a big hoist. "It wasn't enough to pick up a truck engine, but it would lift a transmission," Jim said.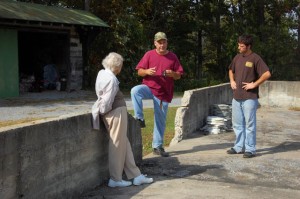 The Styrofoam insulation proved fatal to the building. During a windstorm, it was thought that the electrical lines arced, setting fire to the insulation. Today, all that's left is the slab and foundation walls.
At one time, the front of the building sported wooden letters spelling out Steinhoff, Kirkwood & Joiner. "We burned them up," Jim said, somewhat sheepishly.
Shed's not bad for 50+ years
Wooden parts of the old shed behind the garage are a little worse for the wear after close to 50 years, but it's still standing. The green color may very well be original. Dad had a thing for painting stuff green.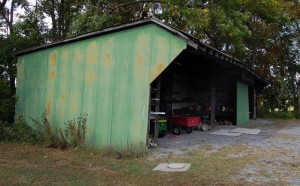 Three strings of wooden blocks used in forming up concrete were still hanging from the wall.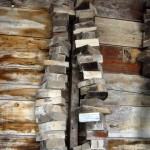 I allowed as how they might make good kindling after all of these years.
Dad moved his business down near the intersection of Old 61 and Sprigg where a rock quarry is today. Shortly after that, he moved to the corner of 74 and 25 in Dutchtown. He died in August 1977 and my mother still owns the property. I'll cover that in a later entry.
The Pinkstons made the place look nice
The Pinkston family has made many improvements to the property over the years. Jim's dad built the original house shown in the aerial. Jim added the garage, which really made the house look impressive.
The pond is about three or four feet lower than I remembered because land use changes have reduced rainwater runoff, but it's nicely landscaped and mowed. The moccasins have moved on, thankfully.
My mother and I appreciate the time Jim and his son spent with us. We're glad the land is in good hands.