No, my shiftless feeling isn't related to my lack of employment. It's because my front shifter went out and the local bike shop doesn't have a replacement in stock.
I don't pay much attention to details
I have lots of gadgets on my bike, but I don't pay a lot of attention to components so long as they work. My left shifty thing adjusts the front gears to make me go faster or easier. My right shifty thing adjusts the rear gears to fine tune what happens related to the front gears.
I NEVER felt the need to go faster
When I bought my used Trek 1220, it came with road gears with 52 teeth on the big front chain ring. That's so you can go fast. I never said to myself, "I'm in the big ring and I"m pedaling as fast as I can and I want to go faster."
I HAVE said to myself, I'd sell my firstborn (sorry, Matt) for a lower gear to get up this hill.
I had Wayne (remember Wayne?) swap out the road gears for mountain bike gears with a 46-tooth big ring.
Everything worked fine for awhile
Until, that is, I went for a ride up in South GA on a cold weekend. The temps were in the mid-40s and my gears wouldn't shift until the day warmed up. Wayne replaced the shifters and life was good again.
Let me explain something about Florida riding: we don't have hills. We get a nosebleed when we go from the curb to the crown of the road. We diddle with gears to compensate for headwinds and tailwinds, but our low gears are mostly for show.
Compensating for altitude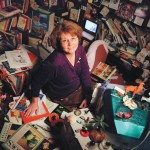 Jan Norris, my old riding partner and former Palm Beach Post food editor fielded a call from a reader one day asking how much she should adjust the cooking time for altitude. Since subscribers could be anywhere in the country, Jan asked, "Where are you calling from?"
"South Palm Beach," was the reply.
"That's sea level," Jan said. "You can SEE the ocean from there."
"Yes, but I'm in a condo on the 13th floor," the caller explained.
Do you see now why we can't conduct an election without hosing it up?
I needed the granny yesterday
On my first hilly ride this week, I used the full range of gears. Luckily, shifting to the lower ones took just a punch of the button with my thumb. It became increasingly difficult, though, to get into the bigger gears.
Like I wrote before, my mother lives at the top of a hill, so I was in the front granny gear on the way home yesterday. When I started the downhill run this afternoon, I needed to shift up. I pushed as hard as I could with my left hand, but it wouldn't shift. I had to reach all the way over with my right hand to get it to go.
When I passed the Cape Bicycle Shop it was still open and I stopped in to explain my problem. One of the guys looked at it and thought the cable might be binding on the kickstand plate. It was, kinda sorta, but not really.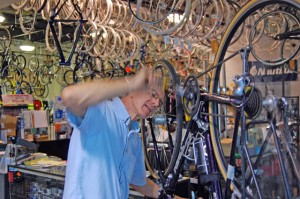 Owner Eric Gooden took a look at it
He was hoping that it might be a frayed cable. I was, too.
I knew I was in trouble when something fell out in his hand and it wasn't a small mouse that had crawled into the shifter when I wasn't looking.
Bottom line: it's broke. There might be a spare off another bike somewhere on a shelf, but if there isn't, I'm in trouble. They are backordered.
Bro Mark is going to see if they have one in St. Louis, but it's looking bleak. My bike is old and has seven gears in the back. Spiffy new  bikes have nine or 10, so there isn't much demand for my flavor of parts.
This might be the excuse I need to upgrade to Shimano Dura Ace ST-7801 Dual Control Levers with matching Shimano Dura-Ace CS-7800 10-speed 12T Cassette, except that they ring in at $400 and $154 respectively, almost exceeding the cost of the bike itself. (And then I'd have to upgrade to a Shimano Dura-Ace CN-7801 10-speed Chain for another $35.)
Worst case, I'll have them lock me into a middle-range gear and I'll do a lot of coasting downhill and some slow pedalling or walking uphill. It's always good to have an excuse for being slow.