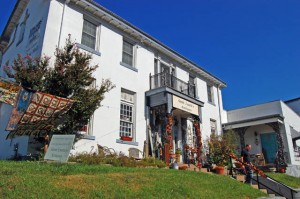 It was chilly this morning and we had some Birthday Season celebrating to do, so we didn't get on the bikes today. Bro Mark was looking for some stuff for friends, so we hit some of the Cape Girardeau antique shops.
First stop was Annie Laurie's Antiques, which happens to be Wife Lila's niece's place. It was the former Ford & Son's Funeral Home. I have to admit that it always feels strange to be standing in the viewing room where my dad's funeral was held in 1977.
[Editor's note: I've been wrong all these years. This building wasn't Ford & Son's. It was Brinkhopf Howell Funeral Home. My old classmate, Brenda Bone Lapp caught the error and Laurie of Annie Laurie's confirmed it. I was dead wrong, if you pardon the pun.]
Pitchfork on sale in old viewing room
It's particularly odd when you see a homemade pitchfork on display in the old viewing room. Reminds me of the old saw about the funeral for the meanest man in town. Just about everyone in the area attended the service, "not to honor his memory, but to make sure he was really dead."
I bought a Souvenir Folder of Cape Girardeau, a collection of picture post card-type pictures, to compare and contrast with today's landscapes.
We've come a long way
One of the first things I saw in Pastimes Antiques was a reminder of just how far we've come in this country. One night this week we're watching Barak Obama stumping to be president of the United States and a day later, we're looking at a collection of Black memorabilia of the most racially offensive nature I ever recall seeing.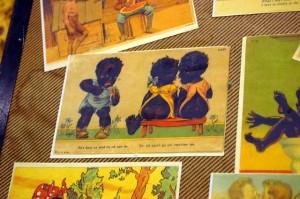 There wasn't a stereotype left untouched. Lil Black Sambo and Aunt Jemima were tame compared to this stuff.
I'm not knocking the antique shop for carrying it. It's probably valuable to see how crap like this was acceptable at one time.
Finally found a Cape Coke bottle
Way back about the time the earth's crust cooled, many communities had their own soft drink bottlers. Coca Cola, in particular, would manufacture their bottles with the name of the bottling city on the bottom.
I've kept my eye open for a Cape Girardeau Coke bottle in good condition for years, but I hadn't found one until today.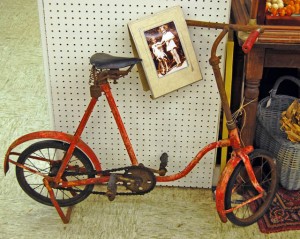 When I was a kid, we'd walk on the side of the road looking for bottles so we could collect the 2-cent deposit. I'm ashamed to admit that I would have had to harvest 600 bottles to pay for my new possession.
Neat bike
This kid's bike has seen better days, but the really unique thing about it was that it came with a picture of the original owner.
I hit the Mother Lode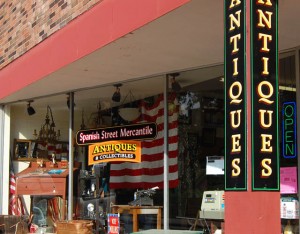 At our last stop, Spanish Street Mercantile, we hit the Mother Lode: three Central High School Girardot high school year books from my dad's high school days. There was also a Girardot from 1947, my birth year.
A yearbook that was a year or two out of my dad's era still had a girl's corsage pressed between the pages and her name card in it.