That big stack of business cards that say Ken Steinhoff, Telecom Manager, Palm Beach Newspapers, Inc., lost all value except as book marks when I retired at the end of August.
I needed a new identity
I was headed out to speak at a telecom conference in October and decided I should have new business cards to hand out there and when I run into folks on the bike.

Matt, Help!!
One of the advantages of having geek kids is that you can call on them when you need help. Matt, older brother of propeller head Adam, shown here, said he'd whip something up if I could provide a logo.
I started to rip off Keefer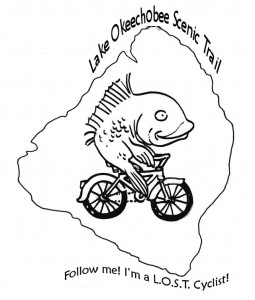 I started to rip off a logo used by Chuck Keefer, keeper of the needs-to-be-updated LOST website, but I didn't think it was generic enough.
Velo Girardeau to the rescue
That's when I remembered the illustration on the flyer for Velo Girardeau's annual Tour de Cape. For a small town, Cape has an active cycling community with a lot of friendly and helpful folks.
Their Yahoo group has some excellent maps.
I rooted around in my file drawer until I found the flyer and scanned it for Matt. He came up with this as a business card. Because we were getting tight on time, he was going to have them printed and mailed to my mother in Cape so they'd be there when we arrived. For the record, www.overnightprints.com did a good job at a reasonable price.
There was one small problem
I didn't know how to contact the artist to get his permission and I didn't have a clue how much he might charge for the use of his work.
I figured my first challenge, when I got into town, was to track down some guy named Don Greenwood and see if I was out 10 bucks for cards that I couldn't distribute.
It helps to have an artist in the family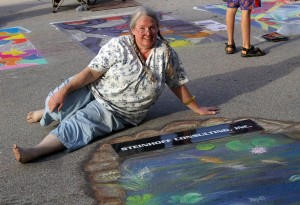 Sister-in-law Marty Riley is an artist in Cape and not only knew Don Greenwood, but knew where he hangs out in the evening.
We tracked him down and he graciously agreed to let me use his artwork for an amount that I could afford: $0.
Thanks, Matt, Marty and Don.