Bro Mark sent me a link for what is described as a  Swiss Army Emergency "Piss-On-It" Battery.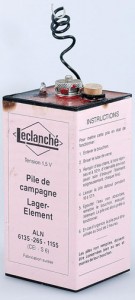 This is an emergency 1.5VDC wet-cell battery. When you need it, you remove the cork, break off the little glass tube and fill it with clear water… Let stand for 10-12 hrs and presto, you got juice. I'm told, if you're stuck in the middle of the desert without any possibility of water, you can pee in it, and that'll make it work too. You gotta love it! Brand-new. 4.75" x 2" x 2"
If you just can't live without one, here's where you can buy it.
I have no connection with these folks, nor have I ever bought anything from them, so you're on your own.