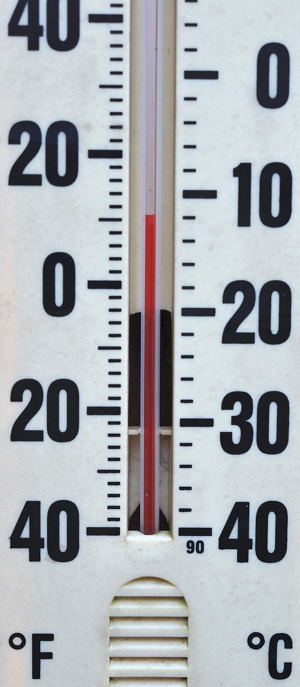 We're visiting our recently-married friends Erynn and Ryan in the Southpoint area of Durham, NC. It's cold. How cold? Check the thermometer. I'm going to call it less than 11 degrees cold. I did only 5.76 miles today.
American Tobacco Trail
The American Tobacco Trail passes right behind their house. It's a 22-mile rails-to-trails project. In the winter, it's cold. In the summer, it would be wonderful. The two or three miles I rode were well-shaded. You have to cross a fair number of roads but I never saw any traffic. There weren't any cyclists out this morning but lots of walkers with their dogs.
Next time we'll have to visit in warmer weather. I'd love to put some more miles onto this well-paved and groomed trail.
Bean Traders Coffee
Yum!
I don't think of North Carolina as a bastion of good coffee but we have had two great days of coffee. This morning, I biked to Bean Traders Coffee They have three locations in the Durham, NC area.
Their coffee used to be roasted in the store (and you can still see the roaster) but they now do so much volume they can't keep up so their beans are roasted off-site. Still, the coffee is fresh.
The folks working the counter know coffee. They pulled a perfect double espresso. Having just finished reading Starbucked: A Double Tall Tale of Caffeine, Commerce, and Culture, I have a renewed appreciation of good coffee.
In addition to brewing good bean, the place is very friendly to cyclists. No one blinked when I road up in a very bright outfit and undressed at a table. I sat near the counter and heard the baristas greet just about everyone who came in by name. Wonderful! Kid friendly, too. In addition to the main coffee slurping area, they have a second bay in the strip center with more tables and a small play area.
Bean Traders is just two and a half miles from their house by trail. It was a nice ride. I had good bean and read the newspaper then rode back. I would do that every morning if I lived here. But, maybe not at 11 degress.
—Matt