The Florida Off Road Cycling Enthusiasts – FORCE – are scheduling a Big "O" group ride around the Lake Okeechobee Scenic Trail (LOST) Saturday and Sunday, Nov. 14-15.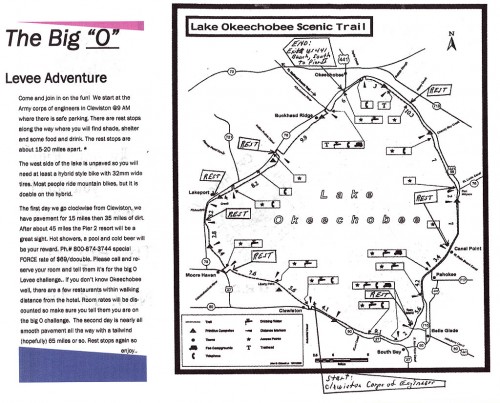 The ride will leave at 9 A.M. from the Clewiston Army Corps of Engineers on the north side of U.S. 27 as you come into Clewiston. There is safe parking there.

View The Big "O" Ride Nov. 14-14. 2009 in a larger map
The whole ride is about 115 miles, done over two days. The first day, which is on the mostly unpaved west side of Lake Okeechobee, will cover 50 miles. Sunday's ride will be paved, with a short stretch on a roadway that has adequate shoulders.
Rest stops about every 15 to 20 miles.
The group has made arrangements for a special FORCE rate with the Pier II Resort at the north end of the lake. Call 1-800-874-3744 to reserve your $69.99 double. Mention the Big O Levee Challenge to get the price break.
Wide tires needed
The west side of the lake is unpaved, so you will need a bike with at least 32mm wide tires. If you plan to ride on a high-pressure, narrow-tired road bike, you may want to drop down off the dike onto Highway 78. It's a low-traffic, wide-shouldered highway.
For more information, stop by the Bicyclery on Military Trail south of Okeechobee Road and ask for Tom Rassiga. OR, you can watch him on this video.