I was driving up A1A near Boynton Beach, FL, behind a SAG wagon covering the Boca Raton Bike Club's Frank Stark Ride when I saw the last rider in a group hold up his hand.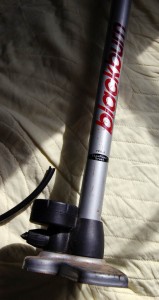 The SAG driver must have missed seeing him, so I did a U-turn, pulled up alongside the rider and asked if he needed help.
Need help?
He said he needed air for a low tire. He had flatted and changed the tube, but his CO2 cartridge left it more more flat than filled.
I whipped out my ever-faithful Blackburn TPS-2 Bicycle Floor Pump
and watched him pump away.
Just before pulled back on the road, he noticed the sidewall bulging out. The tire bead hadn't seated properly.
Pssssssss. Deflate the tube and try again.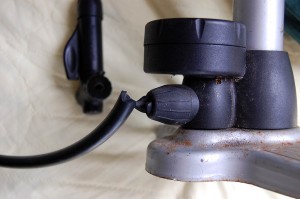 This time it looked good. He pumped. And he pumped. And he pumped.
"Wow, this is a lot of work," he said as he put all his weight on the handle to get it to 119 psi. At 120 psi, there was a loud bang.
It wasn't the tube. The hose on the pump had blown.
The rider was mortified. Knowing that Blackburn had been good about honoring their lifetime warranty when I had problems with the pump head, I told him not to worry about it.
He hopped on his bike and headed back to the start
If Blackburn balks at replacing the hose, I'll do a followup posting. Otherwise, assume that they are a good company to deal with.