Mother Nature gave a bit of a break to cyclists participating in the annual Boca Raton Bike Club's Frank Stark Celebration Ride July 12.
The humidity was high, but the temperatures were in the low 80s when the riders rolled out to do a 30-mile or 62-mile loop starting in Boca Raton.
Who is Frank Stark and what's the ride all about?
Frank Stark was an airline pilot who was forced to retire after quadruple bypass surgery and two heart attacks. He took up cycling as rehab and worked up to the point that he would "ride his age" every year on his birthday. One of his friends said he had a nurse riding with him in the early stages of his rehab.
Before long, the Boca Raton Bike Club started looking forward to the birthday rides. When Frank died of heart failure on a bike ride just a month short of his 71st birthday, the members established the Frank Stark Celebration Ride.
Most of us wish Frank had been born in a cooler month.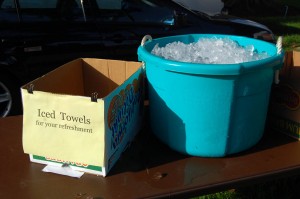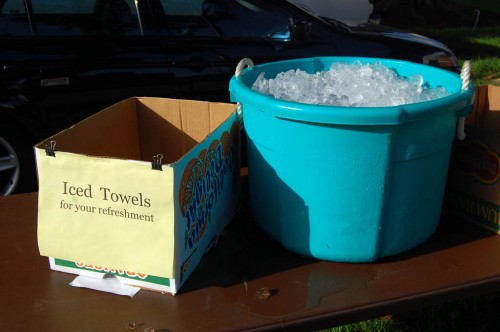 The ride is very well organized. It's the only one I can remember doing where iced towels are provided. Don Braverman tried to tell me before the ride that they even cut the crusts off their PB&J sandwiches. He was either pulling my leg or the sandwich crew was slacking.
The club was offering new members a great deal. If you signed up at the ride, you could get an 18-month individual membership for $25 and a family membership for $40. What makes it an even better deal was that it included membership in the Florida Bicycle Association AND the League of American Bicyclists.
Rider suffers serious injuries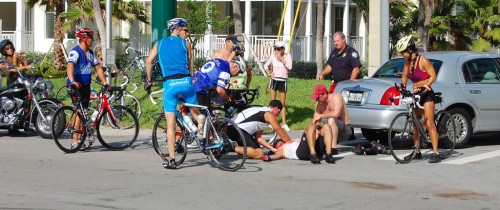 There was one thing that marred the event, however. Rider Tim Warren was southbound on A1A just south of the Anchor Park rest stop in Delray when a car turned in front of him. Witnesses said that Warren had the green light.
He was taken to the hospital, where he underwent surgery to repair several facial fractures. His wife said his jaws will be wired shut for up to six weeks. The driver of the car received several citations, she added.
The first riders to stop did a good job of making sure his neck was stabilized and that nobody moved him until medics arrived.
You can do everything right
That just goes to show that you can be doing everything right: be part of a well-organized group ride; ride responsibly, wear a helmet and obey the traffic laws and your life can still change in an instant.
Cycling really ISN'T a dangerous support, but we should always remember that we don't have airbags, seatbelts and safety glass to protect us. Our crumple zone starts at the tip of our nose.
Here's a gallery of photos.
Thanks to Son Matt for shooting most of the stills while I was running around playing videographer.
If you click on a small picture, it will load a viewer for all the pictures. Hover your mouse on the right or left side of the picture and you will move forward or backward. If you want to return to the thumbnails (like most folks), click BEHIND the image on the sides and it will take you page to the thumbnail page.