Out of the blue I got an email from Charlie Hamilton: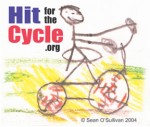 Subject: Five Years Ago (more or less)
Hey Ken,
I was just reminiscing about five years ago, and remembering what a nice experience it was meeting you and your family, and the special treat of a real family Easter dinner.
Looking back on it all, I remember what bad shape I was in, and how much your help revived me.
Hope you, Lila, and the family are doing well.
As for me, I'm living on Cape Cod and run a Pedicab business in the summers, and sit in cubicles writing software in the summer. It's a little schizophrenic, but I'll take it.
Take care,
Charlie Hamilton
A lot of bike tourists follow (more or less) routes put together by the Adventure Cycling Association. Others have specialized interests like The Spokesrider, who lives in southwest Michigan and goes on bicycling expeditions to places where he can say, "Black Hawk Slept Here."
Charlie is a cycling baseball nut
He had posted a message to the phreds saying that he was planning on riding 11,000 miles in six months so he could attend a game at every major league baseball park. At the same time, he was going to be riding for charity: the Dana-Farber Cancer Institute.
How did you come up with this idea?
My fabulous wife, Molly, asked me one day, "What would you do if you could do anything you wanted?" (she ends her questions with question marks). I said something stupid like, "uh, I guess I'd get a job doing….", and she interrupted, "no, what would you do if you could do ANYTHING you wanted", and a few days later I cooked up this idea. Originally I was going to start in Phoenix, and skip Atlanta, Florida and Texas. Then my buddy Dave said, that if I was going to do this, I might as well do the whole thing. Also, I may have been drinking at the time.
I offered help if he passed through West Palm Beach
Between January of 2004 and the end of March, Charlie and I traded some messages and he kept a growing list of fans updated with his plans. Finally, he emailed that he would be passing through our area around April 10, and would like to crash with us.
After trading some info about best routes, he said he'd be coming through on Easter.
Here's his account of our leg of the trip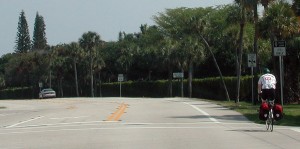 Ow, My Aching Achilles Tendons
The morning of 4/9/04 I got up expecting a short ride into Port St. Lucie, and had a great morning ride along A1A, through some nice towns along the beach. I stopped in Vero Beach for lunch, and made the mistake of not drinking enough water, and having a drink with lunch, because I thought I only had 20 miles to go. I was off by about half, and then the wind kicked up. By the end of the day in Jensen Beach, I was beat, and had not concentrated on my cycling technique, and my Achilles tendons were killing me. This happens due to "ankling", which is pushing down on the pedal with your toes on the downstroke. It doesn't help you, and puts a ton of stress on your Achilles. I had trouble walking into town later on, and started to worry about whether I'd be able to do this whole trip.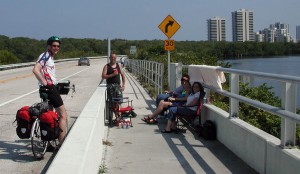 The next day was a short day, and got me mentally and physically back on track, thanks to Ken Steinhoff.
Ken contacted me through the "phred" touring list, which is an email list for folks who like to talk about bicycle touring. I had talked to him earlier, and he suggested a route, and told me to call him when I got into West Palm Beach where he lives.
I was about 15 miles out, crossing a bridge, when I heard someone yelling, "Hey, Charlie!".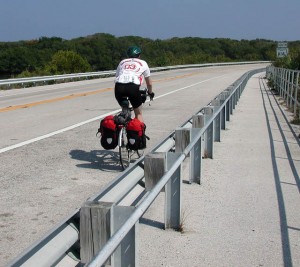 Ken had come out to see how I was doing, probably because I left a message on his machine the night before that sounded like I had been coughing up blood the whole day. He offered to drive me back to his place, which I accepted, since I wasn't feeling that great. When I got back, I met his wife, Lila, and took a dip in their pool.
After that I had dinner with his family, which was a great time after a week and a half on the road. He gave me a chance to catch up on a bunch of stuff, and then drove me down to Ft. Lauderdale (where I'd be spending the night) to drop off my bike at the motel, and then on to Pro Player Stadium. Talk about helping a guy out! Thanks again, Ken.
At the end of the summer, he had racked up these stats:
Ballparks Visited – 30 out of 30 – 100%
Miles Pedaled – 11,741 out of 11,000 – 107% (not quite 110%)
Dollars Raised – $19,329.35 out of $125,000 – 15%
I never thought he'd make it
After he posted his last entry, I sent him a final email:
OK, Charlie, I have to confess something. When I saw you struggling
that day on Singer Island in Florida, I never thought you'd make it
all the way.
My hat's off to you for doing the dream.