Have you ever heard of something that was too good to be true, but decided to give it a shot anyway and got pleasantly surprised?
That's what happened with Harbor Freight's Cycle Tree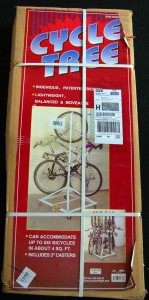 I mentioned last month that I was rebuilding my storage shed to hold 40 years worth of film, clips and prints until I could digitize them. Unfortunately, that's also where I store my bikes. I wasn't sure how I was going to be able to get to stuff on the shelves with bikes hanging from the ceiling and taking up floor space.
Serendipity steps in
S0meone on the Bicycle Lifestyle Google Group was asking about creative bicycle storage in a small space. There were several suggestions, but I liked the one for the Harbor Freight Tools Cycle Tree.
It was only $49.99 plus $8.99 shipping for a total of $59.98.
It claimed to hold up to six bicycles in about four square feet of floor space.
It was on wheels, so I could move it around to access my shelves.
It was only $49.99 (or did I mention that already?).
How good could it be for less than $60?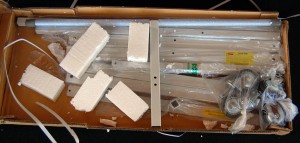 Particularly since it came in a light-weight cardboard box packed in Styrofoam that was mostly turning to dust. I was worried when I saw one of the wheels was missing a nut. Fortunately it was rolling around loose in the packing material.
The instruction sheet didn't inspire much confidence either. The front looked like a bad photocopy. The two inside pages were safety instructions.
Keep work area clean.
Dress properly.
Use the right tool for the job.
Use eye protection.
Stay alert. (Do not assemble the Cycle Tree when tired.)
Do not assemble Cycle Tree if under the influence of alcohol or drugs.
We finally get to real instructions

The last sheet in the package shows a shop drawing of all the pieces / parts with lots of lines and numbers.
I'm not sure the guy who did the drawing followed all of the safety instructions above. They weren't much help to me. Of course, I've been told that I'm instructionally challenged.
Skip the directions; lay out the pieces
Surely there must be some rhyme or reason to the parts.
Gradually, things started taking shape. The only confusing thing was the bolts that were shipped with the Cycle Tree.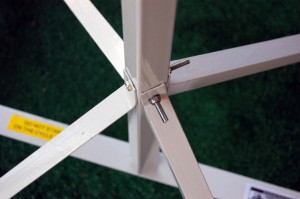 Harbor Freight Tools must have gotten a terrific deal on long bolts. I almost went back into the shop to pick up my cordless drill.
The other thing that was a pain was that every combination of bolt and nut seemed to be a different size, requiring numerous trips to the tool box.

Things start looking up.
Once I started tying in the base, wheels and angled braces, I thought, "This puppy might just work after all."
All of the bolt holes lined up once I conceded that length DOESN'T matter as long as it's long enough.
I didn't like the way that the metal bowed in slightly when I cranked down on the nuts, so I used slightly less torque on the rest of them.
The finished product looked pretty good.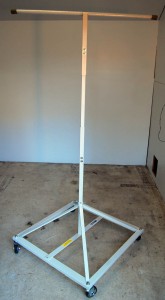 The wheels were solid and turned easily. I was tempted to drill a hole to put in an extra bolt to dampen down some lateral movement of the central shaft, but I remembered the safety caution, "Parts replacement or repair should be performed by a qualified technician." That left me out. Since most of the weight is going to be straight down, I calculated it was unlikely to move to the side much anyway.
Besides, I was starting to get tired and didn't want to violate the Stay Alert caution.
It was time to put it in the shed
It rolled smoothly down the sidewalk from the carport and just made it under the shed door without having to be tilted. It didn't take up much space without bikes on it.
Bro Mark's Spyder was the test bike
Bro Mark's Spyder was the first one hung.
It was the weirdest shape, with the flaring handlebars.
It was heavier than any of the other bikes.
You can't hurt anything that's been under the Mississippi River at least three times.
It didn't fall over. In fact, it was remarkably stable. The wheels turned easily, too, which is important because you're supposed to load the bikes from opposite sides to keep it balanced.
Bike two slipped into place with no problem
Wife Lila's three-speed was next. Despite the wide bars on the Spyder, her bike slipped right into place. Her old Trek Navigator 300 was next, followed by my old Trek 1220 (wow, that bike is light when I strip all the stuff off it).
Up to six bikes means LESS than six bikes
You might be able to get six bikes on the Cycle Tree, but I'm inclined to rate it like a two-man tent: you gotta be REALLY friendly to get two in one. My four bikes occupy a space about four feet by five feet. If the Spyder wasn't there, it wouldn't be that wide.
Despite all my niggling complaints, I'm going to say that this is a heck of a buy for $49.99 and shipping. You can put a lot of bikes in a small space and move them around. I'm happy.
I'm sold. Where can I get one?
Where's the Surly Long Haul Trucker?
Since I use that more than any of the other bikes, I'm going to leave it on the floor where it's convenient to jump and run.