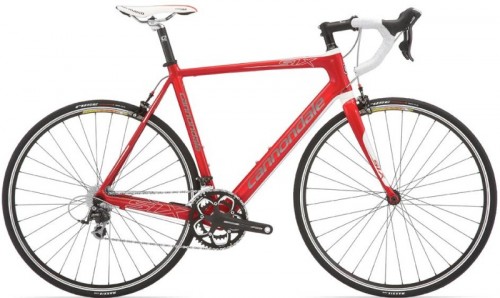 The U.S. Consumer Product Safety Commission announced a voluntary recall of about 1,300 Cannondale 2009 Six 5, Six 6, Six Carbon 5 and Six Carbon 6 Bicycles.
They are missing spoke protectors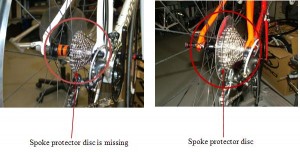 To quote the CPSC recall notice, "The bicycles fail to meet the federal safety standard for bicycles. Spoke protector discs, required on bicycles to prevent the bicycle chain from interfering or suddenly stopping the wheel, are missing from these bicycles. This poses a fall hazard to the rider."
No incidents or injuries have been reported so far.
The bikes were sold by authorized Cannondale dealers from October 2008 through February 2009 for between $1,500 and $2,100.
Here are the models involved
| Bicycle Name (2009 Models) | Bicycle Model Number |
| --- | --- |
| Six 5 Compact | 9RCT5C |
| Six 5 | 9RCT5D |
| Six 5 Compact | 9RCT5C |
| Six 6 | 9RCT6D |
| Six 6 Triple | 9RCT6T |
| Six Carbon 5 | 9RSX5D |
| Six Carbon 5 Compact | 9RSX5C |
| Six Carbon 6 Compact | 9RSX6C |
What should I do?
Consumers should stop using the recalled bicycles immediately and contact any authorized Cannondale dealer for a free repair.
Here is the official recall notice.
Is this a big deal?
I just checked my bike farm. My Surly Long Haul Trucker and my wife's Trek Navigator 300 have pr0tectors. My Trek 1220 doesn't (I think it DID have one, but it disappeared after a trip to an LBS), nor does an ancient three-speed. Must not be one of those things I spend a lot of time thinking about.
I would have said the same thing about the PITA "lawyer lips" (** see below) that are designed to hold your front wheel on until I read a comment on EcoVelo this morning where a guy noticed a strange noise coming from the front of his bike and found that they were the only thing holding the wheel on.
My guess is that the folks who are buying carbon bikes are the same folks who would take the spoke protectors off to save a couple of grams.
** Lawyer lips as defined by Sheldon Brown
Because some bicycle users are competent enough to remove their front wheels but not competent enough to secure them properly when they reinstall them, virtually all new bike purchasers have been deprived of the handy function of quick-release front wheels.
This has been done by encumbering fork ends with extra hardware, ridges or lumps that keep the wheel sort-of attached even if it has been installed by someone who doesn't know what he or she is doing. Unfortunately, this means that the quick-release mechanism must be re-adjusted each time it is used, seriously slowing down the operation.
Since this extra stuff was installed as a defense against frivolous lawsuits by ambulance-chasing shysters, the extra bumps are sometimes known as "lawyer lips" or "lawyer tabs."