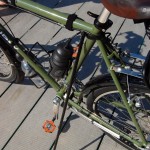 I've written quite a bit about the Click-Stand, the neat folding bike stand I use.
The more I use it, the more I like it, although I have to admit that I still pop down the double-legged ESGE kickstand for quick and dirty stops.
It's light-weight, doesn't take up much room and holds my bike securely.
I met the Click-Stand's manly brother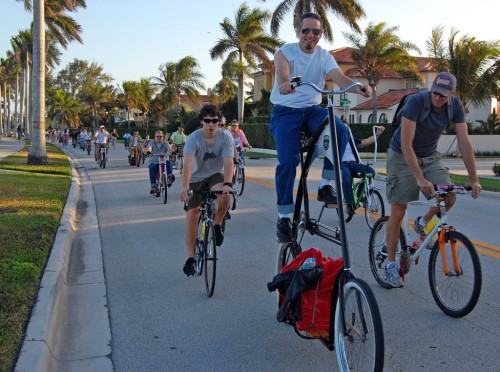 When I rode with the Freakbike Militia last week, I didn't notice the bike stand on Kenny Prather's high rider until it was parked at the Northwood Village Street Party.
A bike with a tall center of gravity like this one would topple right over with a traditional kickstand. Besides, when you have a bike that's as modified as this one, you're not looking for traditional.
Receiver is built into tube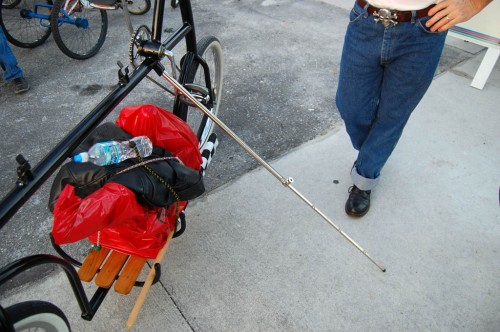 The heavy-duty stand has a rubber tip on one end and plugs into a receiver welded to the bike frame on the other end.
I didn't notice if he locks his wheels to keep the bike from moving like you do with the Click-Stand.
Clips to frame when not in use

I built a Click-Stand holder out of a piece of light-weight PVC pipe and used Velcro to attach it to the front rack. Since then, Click-stand has come out with some nifty mounts.
Kenny attached clips to his frame to hold it when it's not in use.
It's made from an old IV stand
He said his was made from an old IV stand like you'd see in hospitals. That's not exactly lightweight, but neither is his bike. Oh yeah, in case you were wondering, he said his bike isn't hard to ride "once you get it going."