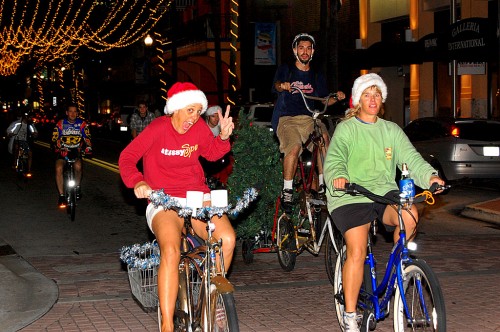 This month has flashed by too fast. There are several rides coming up in the next few days that I don't have a lot of information on, but I'll try to cover the basics.
Freakbike Militia Choppernite 30 Toy Drive Dec. 15
Meet at the Greek Church near the corner of Southern Blvd. and S. Flagler Dr. at 7 p.m. Dec. 15. Ride starts at 7:30 SHARP, rain or shine. Headlights and taillights required, helmets encouraged (mandatory for those 15 and under). The ride generally passes through City Place, stops for some silly games at the Fountain on Clematis where the old library used to be, then returns to the Greek Church.
You'll see bikes of every size, shape and description. Despite the name, it's a family-friendly event. Speeds are a leisurely 10-12 mph.
Bring a new, unwrapped toy for the Salvation Army. (Don't worry about carrying it. Some of the folks ride cargo bikes with spare capacity.)
Bad news: temperature is predicted to be 50 degrees at 7 p.m.. Good news: winds are going to be light and no rain is expected.
Velo's Cyclery First Annual Christmas Cruise Dec. 16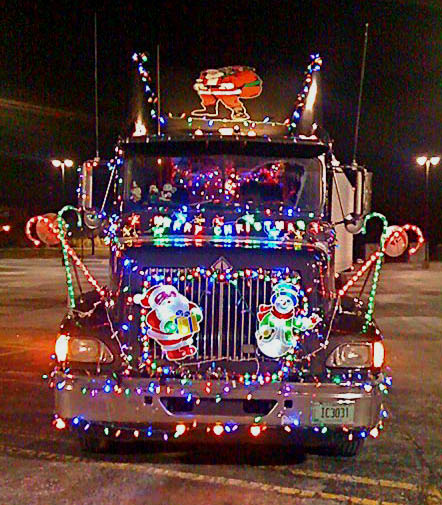 This is a new one for me (and a first, so, it'll be new for everyone.) Here's all I know about it from the Freakbike website:
Join us in our first annual Christmas light bicycle ride thru Lake Clark Shores. This will be with whatever bike you have, unicycle, your Miami sun trike, your best cruiser bike or even your full blown racing bike. Bring the kids out for this one, have them enjoy a great time on the bike with spectacular views of West Palm Beach best Light show in the world.
You are encouraged to add your own lights to your bike to add more bling and flavor to the ride. You can even dress like an Elf or even Santa Clause.

Date: Thursday December 16, 2010
Meeting location: Phipps Park 4715 S. Dixie Hwy. West Palm Beach, South of Southern on Dixie Hwy.
Time: 6:30pm Bring Lights and helmets.
Distance: 5 miles
Speed: as fast as a snail
[Note: the truck won't be in the ride. It's one Bro Mark shot in St. Louis a couple years ago.]