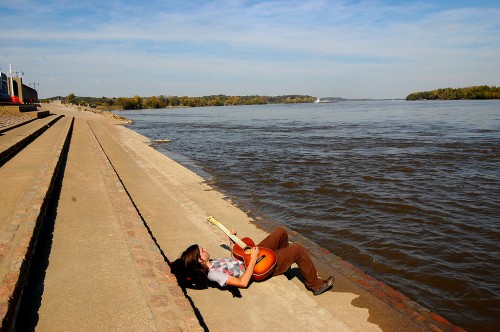 I'm back in Cape Girardeau, where the weather was too nice not to get on my Surly Long Haul Trucker for a short jaunt. I almost always end up at the riverfront so I can see who is hanging out watching the Mississippi River roll by.
Daniel Atwood was stretched out strumming his guitar. You can read about the eBook reader and other characters I met on my Cape blog.
Wow, that hill is steep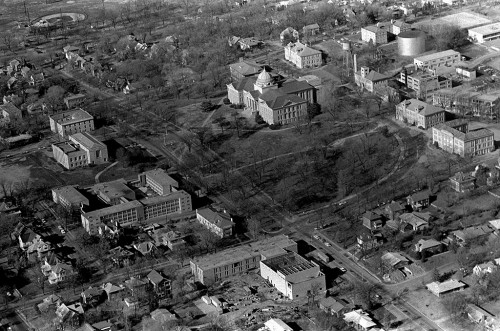 Cape is built in rolling hills east of the Missouri Ozarks. On my way home, I had gone up several steep hills (for a flatland Floridian) and thought I'd take a shortcut through Southeast Missouri University that I thought would save me a long climb.
It turned out that I had traded a long, gradual climb for a short, steep one. I was about two-thirds of the way up the short road behind the dorms at the left-center of the photo when I decided to admire the scenery. OK, I wanted to catch my breath.
Never seen a red fountain before
While I was stopped, a coed walked by.
"This hill wasn't this steep when I was a third my age and half my weight," I told her.
She looked at me with concern and asked, "Are you all right?"
I glanced at my heart rate monitor and said, "I'm OK. I'm still two heartbeats below the point where I become a red fountain on the side of the road."
She hurried off, but she kept looking back at me. I guess she'd never seen a red fountain before.