Cape Central High School in the mid-60s
I shot the black and white picture of my alma mater, Cape Girardeau Central High School, in 1964 or early 1965 for the 1965 Girardot yearbook. It was taken with a Crown Graphic 4 x 5 camera. That's all the tech info I have.
Cape Girardeau Central High School October 13, 2009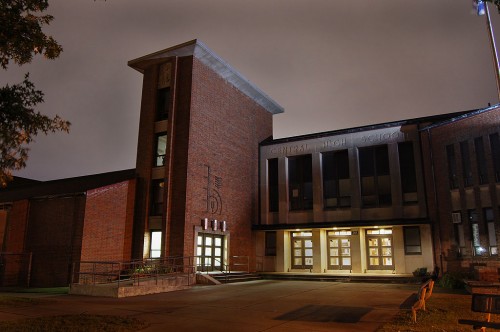 This picture was taken Oct. 13, 2009, at 21:39:50 with a Nikon D-40 digital SLR. The zoom lens was at 18mm (27mm in 35mm-speak).
I underexposed the picture 1-1/3 f/stops, with an exposure of five seconds at f/5. The  "film" speed was ISO 200.
I did a little tweaking with Photoshop, but I also remember doing some burning and dodging of the original B&W print.
(Editing film on a lap top is a little hit-and-miss. Everything looks different depending on the angle of the screen, so I don't know how optimized the image is.)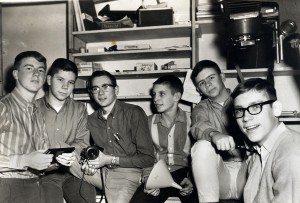 1965 Girardot Photo Staff
Left to right: Jim Stone, Ronald Dost, head photographer Ken Steinhoff, Skip Stiver, Joe Snell, Gary Fischer. Taken in CHS darkroom c 1964. (NOW do you see why none of of the majorettes dated me?)
The more things change, the more they remain the same
The high school has been converted into a middle school. There are a bunch of new trees in front of the building (and it looks like it's air conditioned now). The big sign that my senior class voted to put on the front lawn is gone. (I voted against it and thought we should buy books for the library). Another sign has popped up in its place.
Still, it looks remarkably like it did when I walked through the doors as a scared freshman.