We've just about finished loading the stage coach for our annual trip back to Cape Girardeau, MO, to get in some cool bike riding, recharge our spiritual batteries and to celebrate my mother's Birthday Season.
I'm also going to be shooting After Pictures of scenes around Cape to go with historical photos for a web site I'm launching. I just started scanning prints and negatives going back to my high school freshman year. Since I worked for the school yearbook and newspaper all four years of high school, and for the tw0 of the local papers through high school and until I left for Ohio University in 1967, I have a pretty good snapshot of the era.
Debate road trip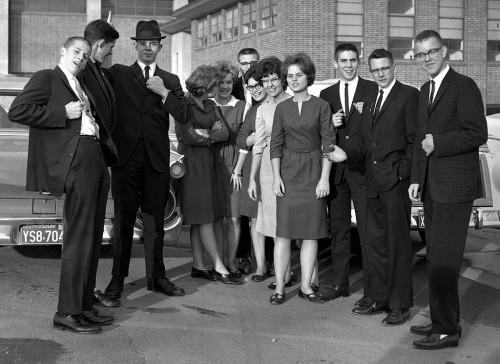 Here's a sample. Here's the A Team of the Debate Squad getting ready for a road trip. (I'm the serious-looking guy second from right. My debate partner, John Muller, far right, and I were undefeated my freshman year.)
The 1960s Class Reunion is going to be held next summer, so I have to get working to make it in time. Wow, I remember laying out newspaper pages with class reunion pictures and saying, "Look at all those old farts." Be careful of what you say when you're young.
None of these majorettes dated me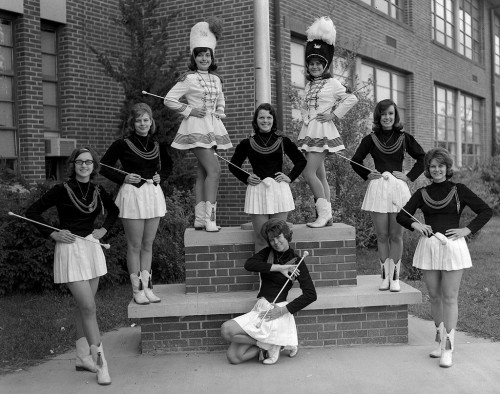 Hey, what did you expect? I was on the debate team and a school photographer. I was a nerd before nerds had a name. (Confession: I actually had and used a pocket protector.)
I DID go to kindergarten with the gal top left, if that scores me any points.
Gonna be a slow few days
I'm sure I'll have fresh content once we get settled in back home, but things may be a little slow while we're on the road.
If you don't want to have to keep checking back (which is OK, because it boosts my traffic stats), you could sign up for a Twitter notification when new stuff is filed or you could sign up for the RSS feed.
Twitter is at the top, left of the page, under "Follow Us Socially." The RSS link is at the top right of the page.