I was walking along the Mississippi river watching the water roll by when my eye was drawn to a shiny bike with blue fluorescent rims. Next to the bike was Amy Murphy, a sophomore theater major at Southeast Missouri University.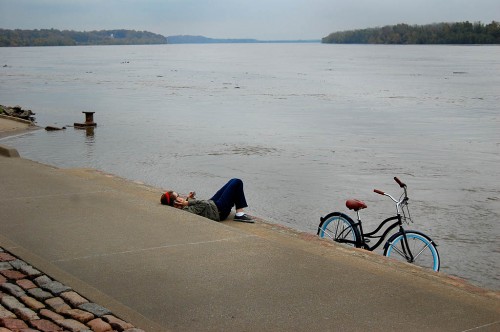 Amy was busy having an animated conversation when I started stalking her, shooting pictures at increasingly closer distances and from different angles.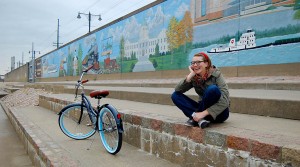 Finally, just about the time she noticed me and looked like she might consider jumping on her bike and escaping this wierdo wearing a bright lime-green cycling windbreaker under a Domke shooting vest, I flipped her a PalmBeachBiketours business card.
I waved off her offer to cut her call short and wandered around shooting some other pictures.
Looked like pepper spray city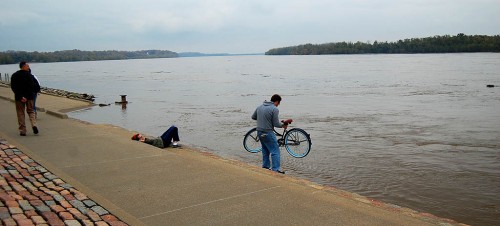 Then, a guy walked up, grabbed her bike and started dangling it over the water. She was agitated, but not enough to break off her phone call.
Just before I started to intervene (with my hand on the pepper spray in my pocket), the guy gently dipped the bike's tires into the Mississippi river. Turned out later that he had helped her build the bike and wanted to baptize the bike in the muddy waters.
A closer look at the Tahiti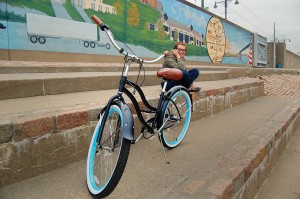 After she wrapped up her call, we had time to chat about her bike.
She said it was a Tahiti, bought on ebay. It's a three-speed with a rear coaster brake, nice fenders, a chainguard and a huge sprung saddle. Its upright position and step-through frame makes it look like a nice short-distance beginner's commuter bike.
It has a nice-looking reflector mounted on the rear fender, but no taillight. I encouraged her to get a light for the back to go along with her headlight.
"I love this bike"
"It's so hilly around here that I have to push it a lot," she confessed.
She's managed to make it up Broadway hill, although some trips she still has to push it. Cardiac Hill, is her ultimate goal.
It's great to be a sophomore

After we had exhausted our bike talk, I asked her tell me a little about herself. I'm hedging my bets by attaching this video of her talking about her goals and dreams. Some day it might be worth a bunch of money and I'll get to say, "I knew Amy Murphy way back when…." (Sorry for the noisy barge working its way upstream in the background.)
"I might be a playwright. I might be an actress," Amy said. She worked as a waitress at Yellowstone National Park and managed to squirrel away three or four thousand bucks (I hope the IRS isn't listening).
First sibling to go to college
After she graduates – failure isn't an option because she's the first of her siblings to go to college – she'll waitress long enough to build up a nest egg to tackle Chicago, New York, Los Angeles or Portland.
"I can write. I can be a comedic actress. I will succeed. I'll do that as long as it takes to get me a bunch of money, then I'll just quit. I don't want to do anything. I'm not lazy. I just want to see the world. I want to do everything there is to do in the world."
In the short term, though, she's focusing on getting up Cardiac Hill without pushing her bike.