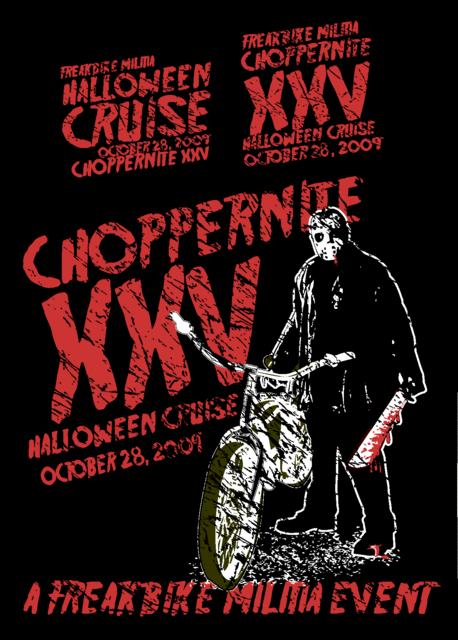 I'm still out in Missouri where the calendars run slow. That means I won't be back in time to ride in the Freakbike Militia's Choppernite XXV Halloween Cruise tonight, Oct. 28.
I thought it was later in the month and I'd have a shot of being home for it. Maybe I can convince Son Adam or Son Matt to cover it for me.
Here are the details straight from the FBM web site:
It will be on Wednesday, October 28, 2009, 7:00pm at the corner of Southern and Flagler. Of course this will be a Halloween cruise but this one will be not retro, but our own generation's horrors!
Werewolves, Dracula, and ghosts are encouraged, but think BLOOD, Severed HEADS, scalp hunting aliens, skeletal bridge trolls who eat slow children! This can be metal like Eddie from Iron Maiden, Sci Fi like Ripley, plastic hockey mask like Michael Meyers, or plastic black man mask like Michael Jackson!
Meeting at 7:00pm and leaving at 7:30pm sharp.
Headlight and taillight are required
Headlight and taillight are mandatory, the sun will be DOWN, helmets are encouraged, mandatory (by Fl. law) for the kiddies 15 and under.
This is an unsupervised, ride at your own risk deal; we need to police ourselves to keep this ride going, if you see someone being a gnomer, call them on it and tell 'em why.
Bike of the night prize
Just to prep you, our minigames will be, of course, giving away the Freak Bike Cup to the Bike of the Night!,  Best helmet costume, and two more that will be a surprise! Think screaming AND ZOMBIES!!!
This will be the original route, through City place, down Clematis to the Fountain, and returning the same route.
C'mon out and get your ghoulie on with the Freak Bike Morticians!
Bigger than Summer of Love
I thought the Summer of Love Ride was the most funnest group ride I'd ever been on. The Freakbikers swear that Halloween Choppernite is even better. Despite their crazy outfits, they're a fine bunch of folks who welcome newcomers. Don't be hesitant to join the ride.