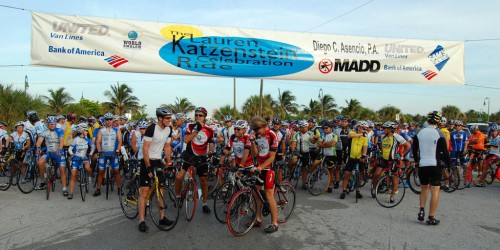 More than 400 riders showed up for the Seventh Annual Lauren Katzenstein Celebration Ride last June.
The event celebrates the birthday of Lauren Katzenstein, a high school sophomore who was killed by a reckless, unlicensed driver while she and her father were participating in the MS150 Breakaway to Key Largo charity ride in 2003.
Lack of sponsors, increased costs end ride
Lauren's father, David, posted the following message on the celebratelauren web site :
I regret to inform you that the Lauren Katzenstein Celebration Ride is to be discontinued.
Due to the loss of sponsorships and increased costs, the ride no longer seems possible.
I cannot begin to tell all of you how much my family and I have appreciated your participation over the last 7 years.
Sincerely yours,
David Katzenstein
Let's ride in Lauren's honor in June
I plan to hop on my bike June 30, Lauren's birthday, in her honor. In fact, why limit it to one day a year? I never met Lauren, but I'm willing to dedicate the first pedal stroke of every ride to her.