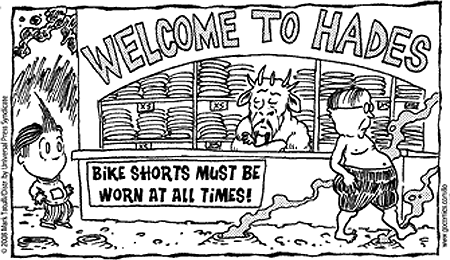 If Mark Tatulli's Lio is right and this means there are bikes in hell, my afterlife is looking up. On the downside, I'd prefer bibs to shorts.
Speaking of Hell and Bike Bibs…
This weekend, I wore through the Pearl Izumi Slice UltraSensor Bib Shorts that I just bought last month. With just five outings and 153 miles on them, these should not have worn out.
By the end of my short ride Saturday, the insides of my thighs had been rubbed raw where the fabric developed holes. I'm still walking funny today. Ouch!
It is a good thing Mark Cavendish wasn't wearing this bib on his winning 232-kilometer trek from Cholet to Châteauroux in the Tour de France. He may not have made it across the finish line before his crotch fell out.
The last bib I had was worn for two years and nearly 1,100 miles. I'm hoping this was just a spurious anomaly in the Pearl Izumi manufacturing process. My experience with Pearl Izumi has been good and their bike clothes have held up very well. So, I'm going to take another swing at this bib — for the few miles I did wear them, they worked very well.
Fortunately, Performance Bike has a great, 100% satisfaction return policy. So, I'm going to send these back and pick up a new pair. I'll let you know how the next pair works out for me.
If the second Pearl Izumi pair fails as quickly, I'm going to give the Performance Bike branded line of shorts (Ken's bike bib review) another look.
—Matt