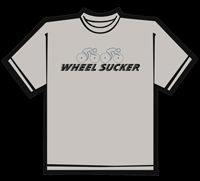 One of the phreds posted a link to a site that had inexpensive
Cycling Posters and Gifts

That word "inexpensive" snagged me because I have quite a few bikers in the friends and family category. (You know the ones: close enough to need a gift, but not a really good gift.)
Perfect for the go-fast rider
I published a picture last week of my brother wearing his I'm With Wheelsucker" T-shirt, so, finding something similar at BicycleGifts
for $6 and free shipping was something I couldn't pass up. Put me down for three.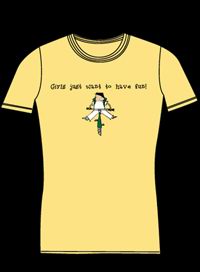 It's always safer to pick small
The Girls Just Want to Have Fun T-shirt for only $6 was perfect for my old riding partner, Mary.
The ad copy warned that "these run very small," so I was careful to check the sizing chart, which said that a Large would wrap 36-38″. I bought her a medium one time and she complained that it was too tight, so I figured Large would be a safe compromise and XL might be an insult.
They arrived today
The shirts were well-made with nice illustrations. Well worth the price.
When I got to Mary's shirt, though, I did a double-take. I checked out the web site and it didn't say that it was for kids.
I picked a minor nit
I dropped an email to the company suggesting that "You might be better off to say that the Girls Just Want to Have FunT-shirts are child-sized.
For the price, it's not worth returning. I'll find someone who has a kid the right size.
Just a minor nit. No big deal. I figure your other shirts were priced well below market value, so I still came out ahead, particularly with the free shipping.
This is good customer service
Within minutes, Richard Kuhlman returned my message:
Hi Ken
These shirts have been a nightmare since we got them in and even in closing them out. Because they are stretchy they really only work for the very young that like to wear their clothes tight.
Please look at our new version at: http://www.bicyclegifts.com/Products/Jerseys%20and%20Ts/T-shirts/Girls%20T-shirt/girls.html
These are normally sized women's fitted T's. Let me know what size you would like and I will ship you one no charge. If you know someone with a young girl that would like the small one make her a present of it. One less aggravation if I don't haver to try to sell it again.
Thanks for taking the time to let us know.
It's nice to deal with folks like Ralph.