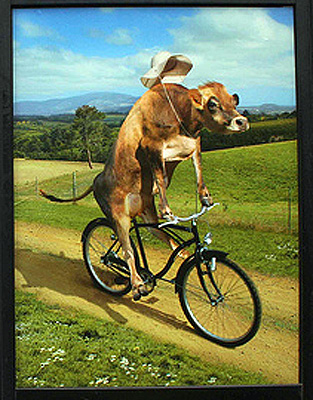 While we prefer the high-tech approach to bicycle touring, others still prefer to take off for parts unknown with just a compass, map and a wool cycling jersey.
For those who insist on cycling without a GPS (and 11 pounds of batteries), we have great new research to report: cows point north.
Researchers scoured Google Earth for images of cows standing around being cows. After looking at 8,510 cattle in 308 pastures around the world, they concluded that cows do indeed tend to align themselves north/south. Big-brained scientists say it is because of the the Earth's magnetic field and that deer display the same tendencies.
Boy Scout Handbook
When I was a Boy Scout, we learned all about moss growing on the north side of trees but science hadn't progressed far enough to know about cows. This could save lives!
Unless, of course, you live in South Florida. We aren't known for having a preponderance of cows or a lot of moss.
How to Find Your Way in Florida
If you bike far enough in any direction, you'll come across water and clues as to where you are.
South: If you hit water and find Cubans or Hatians crawling onto the beach, you have found South.
East: If you hit water after having evaded a rent-a-cop security guard and are standing in the shade of a 20-story condominium, you have found East.
West: If you hit water, find no one under the age of 70 and there is no nightlife but plenty of early-bird dinners, you're on West's doorstep.
North: If you never hit water, you went North.
—Matt