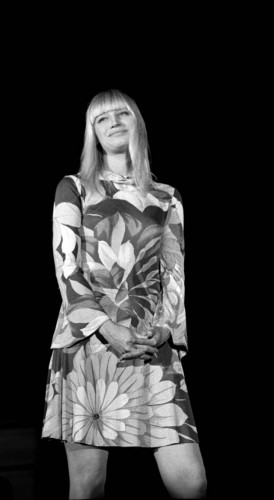 My kids grew up listening to folks songs. The first thing Grandson Malcolm got was a batch of mix CDs that were labled Songs That Every Steinhoff Child Should Know the Lyrics To.
No collection like that would be complete without half a dozen or more songs by Peter, Paul and Mary. That's why I was sorry to hear that Mary Travers lost her fight with cancer Sept. 16, 2009.
Sometimes too sweet
As the years went by, I found their work to be a bit saccharine when compared to other singers.
They make Don't Think Twice, It's All Right sound pretty. It wasn't until I discovered Bob Dylan's version that I appreciated the off-hand way Bob kinda shrugs his shoulders as he dismisses a relationship gone sour because "I gave her my heart, but she wanted my soul."
I photographed them at Ohio University in 1968
They were on the tail end of the Hootenanny Era before the protest music took over. Joan Baez is claimed to have said that a Hootenanny was to folk singing what a jam session was to jazz.
They put on a high-energy show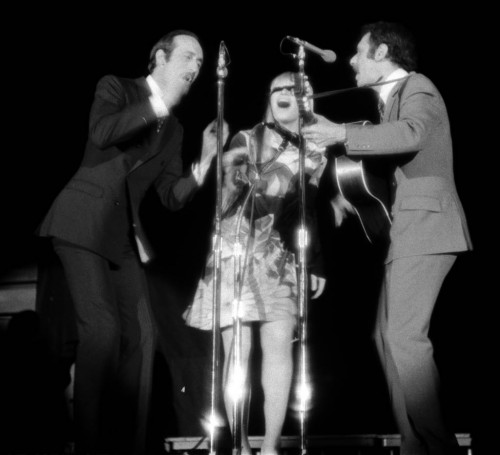 They had the unniversity audience, singing, clapping and dancing in the aisles. From the moment they walked onto the stage until the last encore was over, they gave the audience its money's worth.
Despite liking Dylan's version of Don't Think Twice better, PP&M is the group I think of when I hear If I Had a Hammer and Where Have All the Flowers Gone?
I just took a ride in a magical time machine

It's incredible how music has the ability to instantly transport you back in time. I just heard Leaving on a Jet Plane and flashed back to the 21-year-old photographer cruising the hills of Southeastern Ohio in an old green Plymouth Satellite looking for the next day's wild art. That song was playing on the car's AM radio when I shot Peace in the Valley, a scenic that was one of the most popular photographs The Athens Messenger ever ran.
What REALLY impressed me about Peter, Paul and Mary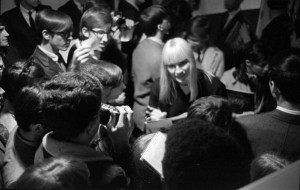 At this stage of my career, I hadn't covered that many big acts, so it's very possible I was more awed than I would be 10 or 15 years later.
Something that really struck me, though, was how they treated their fans after they walked off the stage. They stayed signing autographs and talking with students until the only ones left were the student and local press.
Mary looked like a coed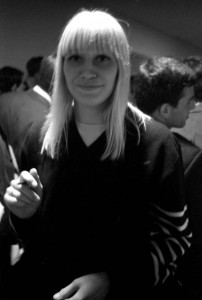 Mary, who was born in 1936, was in her early 30s when I shot these pictures, but she looks more like a coed in the sweater she donned after her performance to mingle with the crowd.
I didn't realize it until I read her obit that she was a backup singer for Pete Seeger when he did Talking Union.
The group broke up in 1970, about the time Peter Yarrow spent three months in jail for taking "improper liberties" with a 14-year-old groupie. (President Carter later granted him clemency.)
They got back together in 1978, toured extensively and were inducted into the Vocal Hall of Fame in 1999.
Clarence Page, future celebrity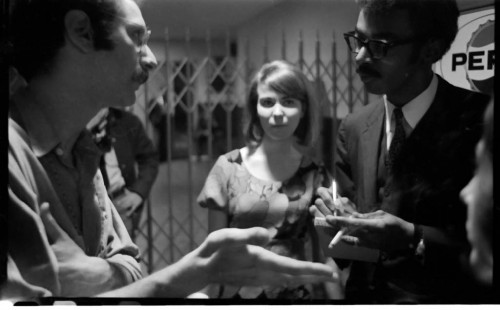 I didn't know it at the time, but I captured two celebrities in this picture. Peter Yarrow is being interviewed by Ohio University Post reporter Clarence Page.
Page went to work for The Chicago Tribune in 1969. In 1989 he won the Pulitzer Prize for Commentary. It seems like you can't turn on a political talk show these days without seeing a much rounder-faced Clarence Page on the screen.