I'm going out on a limb to say there won't be much biking content in this.
When we moved into our house in 1976, one of the things we liked was that it had two mango trees, a key lime tree, two avocado trees, and grapefruit, tangelo and tangerine trees in the yard. A huge coconut palm was in the middle of the side yard and three or four were in front of the house.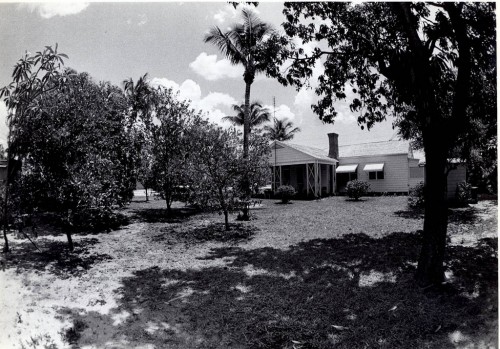 Lethal Yellowing killed off the coconut palms
Lethal Yellowing wiped out most of Palm Beach County's signature coconut palms by 1980. The one in the middle of the picture was replaced by a swimming pool in 1979 after it died.
The key lime tree burned out three blenders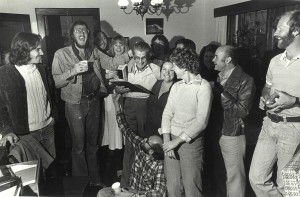 The key lime that is just out of the picture on the right burned out three blenders making key lime daiquiris for photo staff parties. It finally gave up the ghost, but not before its seeds spawned new trees all over Florida. A daughter tree in our front yard was wiped out by the 2004-05 hurricane seasons, but we had a third generation tree producing by that time.
In 2005, the state was cutting down every citrus tree within 1,900 feet of any tree infected with citrus canker, a disease that is harmless to humans, but which causes fruit to be unattractive for sale. Our tree was marked for cutting, but I stalled the process until the hurricanes spread canker so widely that the state abandoned their cutting campaign.
Citrus trees have a life of about 30 years
I read somewhere that citrus trees have an effective life of about 30 years, so all but our third-generation lime have died off. The mango trees are about twice as big around as when we moved in.
Hurricane winds are fatal to big trees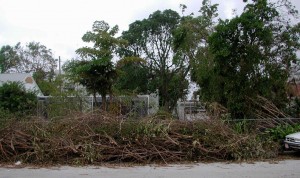 Trees with big canopies of leaves carry a huge wind load in tropical storms. Even if their tap roots are deep enough to keep them from pushing over, huge branches can break off and the trunks can split.
About six or eight years ago, we had our mango trees trimmed by a professional arborist, Kelley's Tree Service in Lake Worth. The key is to remove all of the small lateral branches while leaving the major tree structure intact. We think that contributed to the survival of our mangoes when others in town blew down. (It's the tall tree in the middle of the picture.)
It was time for another trim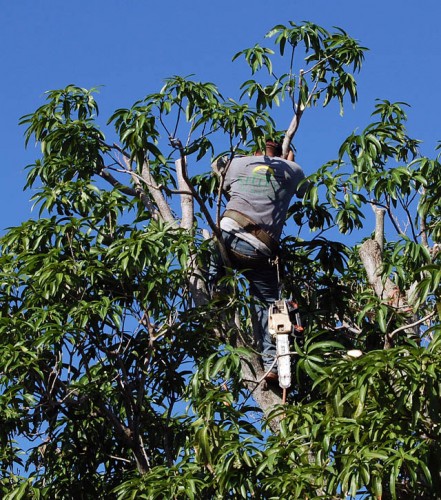 We kept our fingers crossed through the peak of hurricane season this year because both trees were full of mangoes and we didn't want to lose any. (A mango for you folks who've never had them is sort of like a peach, but larger, with smoother texture inside. They're great fresh and equally good frozen. Foodie friend Jan Norris has more info.)
The good folks from Kelley's Tree service spent half a day trimming back the excess canopy and setting us up for another six or eight years.
Note: these folks know what they're doing. They're not the hatrackers that show up knocking at your door with a ladder and a chainsaw.
We're not done dealing with trees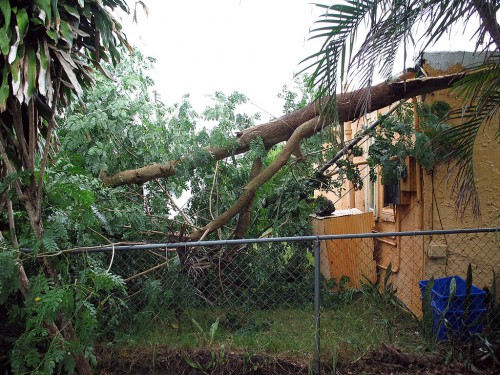 I was on a pizza run when a heavy rainstorm moved through. When I got back, Wife Lila said that she had heard a sound like firecrackers going off and the UPS had kicked in briefly. I was more interested in chowing down than investigating.
Just about the time we were finishing up the pizza, we heard someone saying, "Hello? Hello?"
Power lines down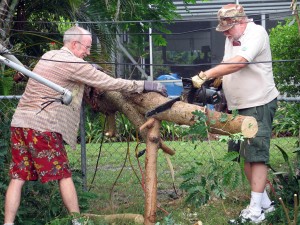 It was a firefighter following up on a report of power lines down. We walked out in the yard and discovered that a tree in our yard had snapped off in the rain squall and had fallen across the neighbor's power lines feeding a small rental cottage.
There was no indication that there was anything wrong with the tree, so it must have been a freak gust of wind that caught it and snapped it off.
Once the power company confirmed that the lines were dead, Neighbor Bob and I made short work of the tree with my chain saw.
I hope that's the last tree I muck with for some time.