Mike Lovelace on his new Specialized Sirrus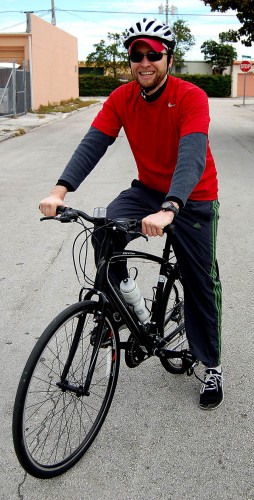 "I want a bike for about $350"
Son Adam said his buddy, Matt Lovelace, was looking for a new bike, but he didn't have a lot of money to spend – about $350 – because he was a student working on his Master's Degree in Biomedical Science.
I told Matt that my wife and I had started out with Trek Navigator 300 comfort bikes for about that price in 2001. "The most important thing is fit, not price. You're 31, which is when you start losing the flexibility that let you ride an old yard sale bike you could pick up for $50 in your 20s."
I suggested that he'd be better off going to a regular LBS, instead of a big box store, so he would be dealing with folks who understood bikes and riding.
Of course, he went to a big box store
He found a Diamondback Insight at a good price and was pleased with some of the reviews he found, but, fortunately, someone walked by who knew something about bikes and convinced him that it was the wrong size.
It was then that he "decided to spend my money on something that was the right fit," and he ended up at Bicyclery on Military Trail south of Okeechobee Road in West Palm Beach.
"I had to have it"
There, he saw the Specialized Sirrus in a flat black color scheme. "It just felt right. I had to have it."
The base bike cost him $520 plus tax, more than he had anticipated spending originally.
I told him before he started shopping that price was important, but to keep in mind the price of the bike spread out over its lifetime. If you think you'll outgrow what the bike can do in about three to five years, divide the difference between what you planned to spend and what you want to spend and you'll find out that it's probably less than a cup of coffee a day.
Nice handlebar grips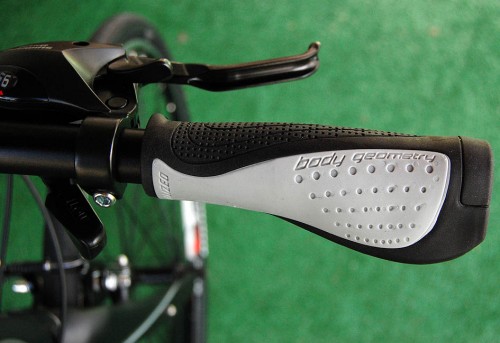 I liked the feel of the Specialzed handle bar grips that are a little flatter than the normal round grip. I think they'll be more more comfortable on a long ride.
A compromise on the front fork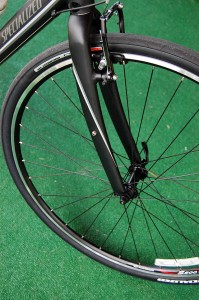 This model bike has an aluminum front fork. To go to a carbon fork would have jumped him up a model and about another $100. He figured he could put up with a slightly stiffer ride for the dollar difference.
That was probably a good choice. He's already talking about accessories: bib shorts, computer with cadance and, after today's ride, a spare tube and some basic tools.
Florida sand spurs are nasty
He liked that the Sirrus comes with a wider tire so he could go on sand or gravel if he wanted to. He was demonstrating that on a ride with his friends this afternoon and scored his first flat when he picked up a sand spur.
The Specialize Sirrus meets his initial goals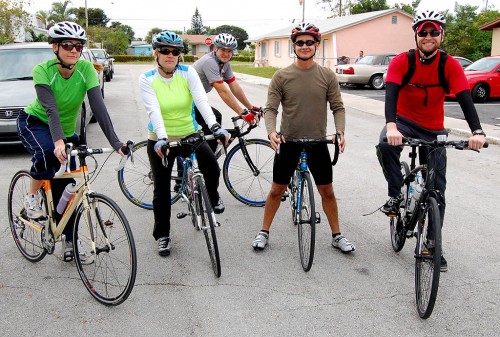 Matt was looking for a bike that would let him ride in a more or less upright position while cruising parks and trails with his girlfriend. At the same time, he wanted one that would let him ride faster and longer if he wanted to go on longer rides with his friends.
He came back from his first group ride feeling like he had found a bike that would meet those requirements. The ride wasn't that long, but he did manage to hit 26 mph for a stretch when they gave him a chance to see what it would do.