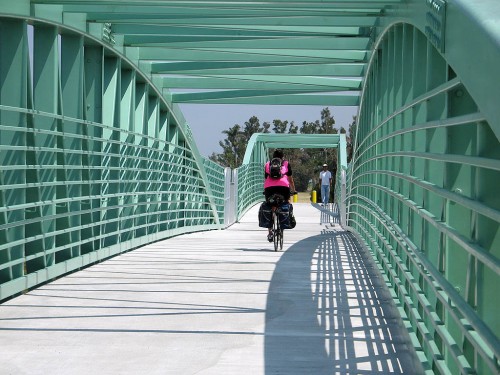 The Adventure Cycling Association has been promoting bicycle touring since the Bicentennial Year. They produce a network of maps that will let you find your way across this country from just about any direction. I've been a member for nine years and I give out memberships as Christmas presents.
In addition to the maps, the ACA also leads tours, sells well-tested merchandise, publishes a magazine that causes you to want to hop on your bike and serves as a strong advocate for cyclists.
The ACA Executive Director will be here January 14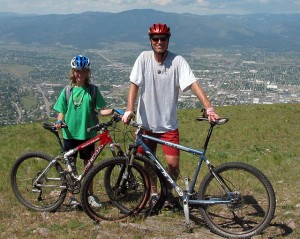 Jim Sayer (pictured here with his daughter) will be speaking to the Palm Beach County Bicycle, Greenway, Pedestrian Advisory Committee (BGPAC) on Thursday morning, January 14, from 10:15 to 11:30. The meeting will be at the Vista Center, 2300 N. Jog Rd., West Palm Beach.
Jim will be sharing the latest news on bicycle travel and adventures in North America (and perhaps beyond).
He'll be looking to the year ahead, with new routes, trips, and policy and outreach initiatives to improve bicycling and bike travel in the U.S. There will also be time to talk about the economic and community benefits of bicycling, and to share cycling thoughts, ideas and stories.
Bret Baronak of the Metropolitan Planning Authority has asked Jim to cover some specific topics:
The development of the USA Bicycling Network
ACA's interaction with the federal or state governments regarding transportation legislation and policy-making
And since you sit on the City of Missoula, MT BGPAC — a brief summary of some of the objectives and actions of the Committee that stand out as unique.  Our BGPAC is always looking for new and creative ways that we can get involved in carrying out the mission of non-motorized transportation planning.  We have an interest into seeing what other BGPACs do, that may be unique, as that can help us formulate ideas and/or develop new initiatives.
Florida gatherings