When I headed back to Cape Girardeau for my 60s Decade High School Reunion, I stuck my Surly Long Haul Trucker in the back of the van. June in Missouri ought to make for great riding, right?
As it turned out, I hauled the LHT about 2,200 miles to ride it a whopping 1.9 miles.
Classmates got to reconnect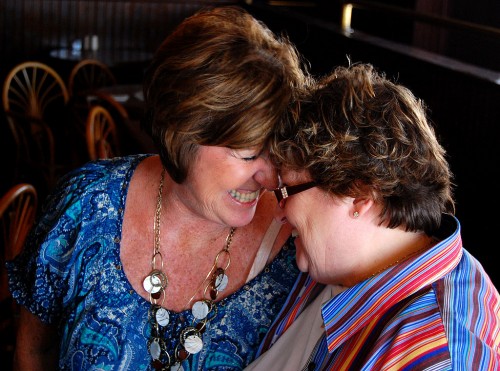 The reunion was much better than I had anticipated. Folks have been following the blog I established about growing up in the Midwest in the 60s, so I felt like a blogger rock star for a weekend.
Unfortunately, reunion activities kept me busier than anticipated, plus the area was hit with record-breaking temperatures that sent the heat index into the 107-degree range. I subscribe to Son Matt's rule: if it ain't fun, don't do it.
Good thing I knew where he lives
My mother's neighbor, Bill, from across the street, came over on his refurbed Raleigh to check out my LHT. I told him to take it for spin. He was gone so long I was glad I knew where he lived, or I'd have figured I'd never see it again.
I HAVE to ride at least once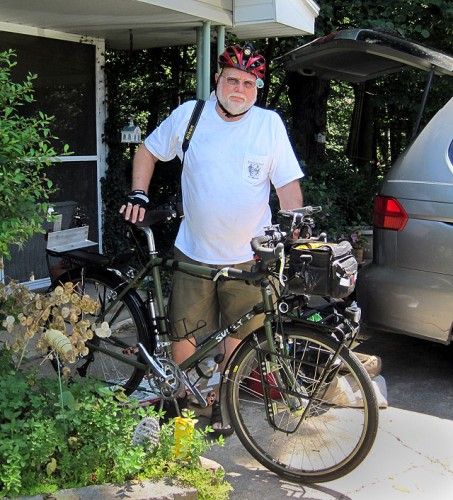 On the morning when we had to leave town, the weather turned a bit cooler. Cool enough that I would have gone for a real ride if we hadn't had a deadline to meet. The first thing that has to be packed in the van is my LHT, so I decided to take it for a short spin around the neighborhood, my old paper route, before loading it.
I pulled out of the driveway, went downhill, then rolled back past Mother's house so Wife Lila could shoot my picture. From there, I made a left onto Kurre Lane, which is an uphill run. I was in a mid-range of gears, just "dancing on the pedals," as Phil Liggett would say. I crested the hill feeling pretty good. For a heavy bike, it did quite well.
I was riding the my old paper route clockwise; when I was 12-years-old on my old single-speed Schwinn, I did it in the opposite direction.
You can't even see the STEEP part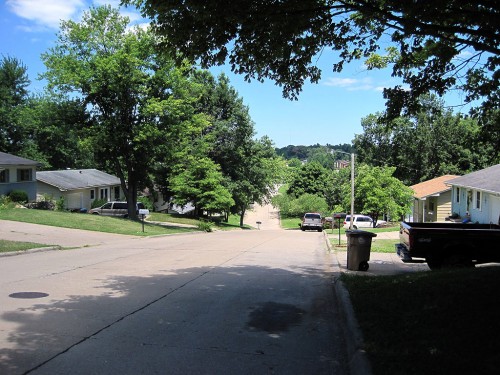 That must be the reason why, at the bottom of the downhill, the right-hand turn I made took me onto a hill  I didn't remember. It went straight up. Straight up enough that I didn't have time to slide into a lower gear. To keep any forward motion at all, I had to stand up on the pedals. That was good for about one revolution.
I barely had time to unclip before the bike came to a complete, fall-over-on-its-side, cow-tipping dead stop. I had to lock both brakes to keep it from rolling downhill, taking me with it. To make it worse, there was a guy waiting to back out of his driveway who witnessed my struggles.
I decided the only way I was going to climb this sucker was to reverse course, get a run up the hill behind me, then turn around and go up the steep one. That worked pretty much as planned except that I had so much pressure on the pedals that I couldn't downshift when I was about two-thirds to the top. My only choice was to stand up on the pedals for the last 75 or 100 feet. I made it, but it was a good thing it wasn't 10 feet taller.
NOW I remembered that I used to go DOWN this hill

This profile won't impress anybody who is used to hills, but it's a far cry from flat Florida.
When I go back home in October, I'll bring the bike again. Maybe it'll be cool, but not too cool, by then.