Kid Brother Mark sent me a crankygram all the way from frigid St. Louis yesteday complaining that I hadn't updated the site in a couple of days. I didn't really owe him an explanation, but I said that I had been busy with mandated projects around the house. One of those is cleaning out a storage shed behind the house. It was tented for termites this summer and Wife Lila's brother John is coming in a week to repair the damage.
This fell out of a box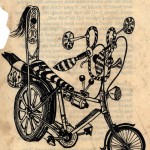 While shuffling boxes around that hadn't been touched in 20+ years, this clipping fell out. It looked like Bro Mark's Sears Spyder bicycle that shows up as a header on this site from time to time.
Yep, big tire in back, tiger-skin banana seat, sissy bar, high-rise bars, that's it all right.
Don't you agree?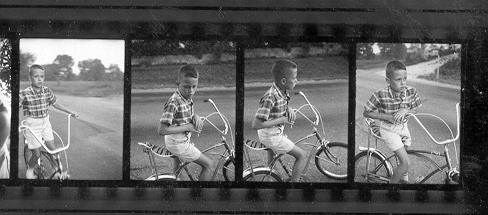 No doubt about it, THAT'S the bike.
Just to be sure, I pulled it out of the shed where it had been collecting dust since last summer.
What was it doing there?
That's a long story. It seems like Bro Mark must have gotten tired of his faithful steed at some point and it was consigned to an outside lumber shed at Dad's construction company's complex at Dutchtown, MO.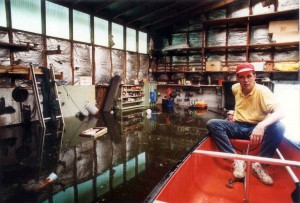 You may have heard of Dutchtown on the national news. It has a minuscule population, but it tends to have a 100-year Mississippi River flood about every 10 years.
Here's Mark – who was a whole lot cuter when he was riding his Sears Spyder – in a canoe surveying the four feet of flood water in the mechanic's shed during the Flood of '93.
He has that look because I had just pointed out that water moccasins were probably perched all around looking for high ground.
I rescued it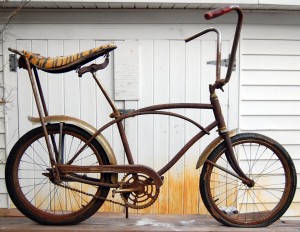 A couple of summers ago, I rescued it and hauled it up to St. Louis on one of our visits. I thought he'd like to make a wall hanging out of it. (He collects old and worthless things. Perhaps that's why he always makes me feel welcome.)
That's when I started feeling guilty
A really considerate brother would have restored it to its original beauty before delivering it. I mean, let's overlook the fact that he trashed all my 50's comic books, broke all my toys and tried to kill me on a bike ride a few years back.
I had Matt bring it to West Palm Beach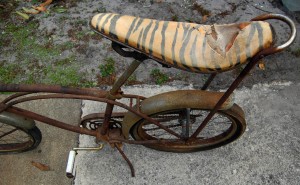 Kid Matt was back in the Midwest, so I had him swing by and pick up the Spyder and bring it here for restoration. He threw it on his bike rack and hauled it 1,100 miles. Unfortunately, the tiger-skin material on the saddle didn't like being buffeted by hurricane-force winds and deteriorated a bit more on the trip home.
What the heck is this thing?
At first, I thought it might have been a Schwinn Stingray.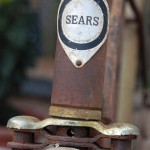 Then I actually looked at the bike. It had a Sears logo on the head tube.
Patience isn't my strong suit, Wife Lila likes to point out, so I immediately started Googling Sears vintage bicycles. A gazillion hits popped up, but none that looked exactly like Mark's bike. It SOUNDED like a Spyder, but most of them had top tube-mounted shifters that were short-lived because they made too many riders change gender. I was confused.
When in doubt, LOOK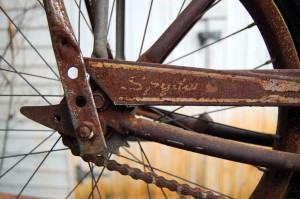 Right there, just barely sticking out above the rust enough paint survived to spell out Spyder name on the chainguard.
Apparently they made a single speed model in addition to the three and five-speed ones that were more common. Santa Claus probably figured that a one-speed was all he could handle.
Mississippi River mud ain't lube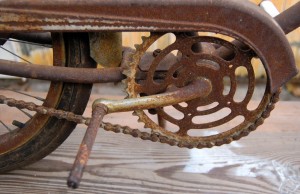 Somewhere along the line, one pedal came up missing, the tires are rotted (but look like they might have been the originals) and the front crank has many coatings of Mississippi River mud.
The seat tube has a pretty severe bend, but the metal's not broken. Either Mark was chubbier than he looks in the black & white picture or someone heavy rode it at some point.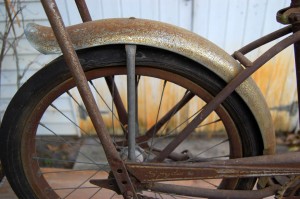 Fenders have a nice flare
Despite all the rust, the fenders still have a nice flare to them. This is NOT a light bike. Even though it's a lot smaller, it feels about as heavy as my base Surly Long Haul Trucker. It's definitely heavier than Mark's Trek Madone.
So, what do we do with this thing?
My first stop was to see Wayne at Bicycle. He likes working on old bikes and making something out of nothing. I figured he'd say something like, "I've got just the thing that'll make that look new. It's gonna be fun."
Actually, what he did was let out something like a low whistle and started talking about sandblasting it down to bare metal and taking it to a place where they would do powdercoating and how much of a challenge it was going to be to come up with the tiger-skin fabric.
When he reached for the calculator I knew I was in trouble.
There were too many commas and zeroes in the numbers I saw him punching in. Before it overheated and set the shop on fire, I turned and slowly (which is the only way it goes with those dry-rotted tires) pushed the bike back to my van.
In reflection (bad pun of the day)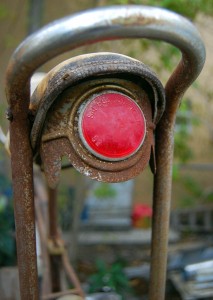 You hit the point where the lottery numbers continue to elude you and your 401K is more like a 199.5K, so you have to make some hard choices. Yep, you love your Bro Mark. But not THAT much.
Now, if you hadn't torn up all those vintage comics books, THEN I might have been able to restore your bike for you.
Too bad. That'll teach ya.