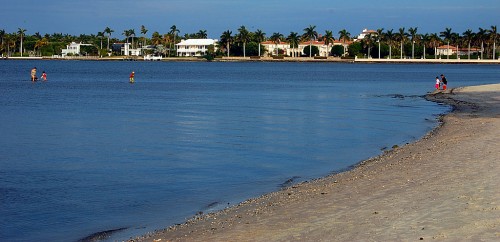 Osa and I went for a January 2 ride this afternoon. Temperatures were great, but we could have done without the headwinds. We stopped on the Southern Blvd. Causeway for a few minutes to let backed-up traffic thin out from a drawbridge opening. While there, I saw this family looking like they were walking on water. The tide was out, so they could walk two or three hundred yards and still be in water about knee-deep. I don't know what the lake temperature was, but the surf temperature in the ocean was 71 degrees, when the air was 76.
This was a lot more pleasant an experience than when I stood on a fire ant mound on this causeway to take a night photo on one of our rides.
While we were cruising along, we passed lots of what we dubbed "New Year's Resolution Riders." They were folks who, obviously, don't ride on a regular basis, but they were soldiering along because they had made a New Year's Resolution to get more exercise.
Did I ride on New Year's Day?
Actually, no. I had good intentions, but Wife Lila mentioned that she'd like to see the sun rise over Lake Worth Beach on the first day of 2011, so we got up at Dark O'Clock and headed out. Here's a gallery of photos we took.
Click on any photo to make it larger, then click on the left or right side of the image to move through the gallery.
Fourth Annual Chili Cookoff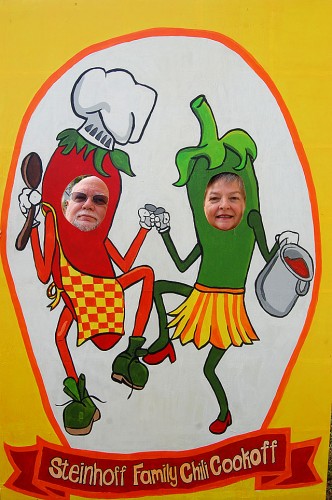 In the afternoon, we went to Adam and Carly's Fourth Annual Steinhoff Family Chili Cookoff. You can read all the details at foodie friend Jan Norris' website.