I mentioned that I didn't go for a ride on New Year's Day because Wife Lila and I went to the beach at sunrise and to the 4th Annual Steinhoff Family Chili Cookoff in the afternoon. What I didn't share was the main entertainment at the Cookoff.
Foodie friend and sometime bike riding partner Jan Norris sidled up to me and confided that she was going to usher in the New Year with an 11-Fountain Mento Salute. It had been on her bucket list for a long time, she said. I'm sure you've seen the videos of elaborately choreographed sticky sprays of soda that are all over the Internet.
Mentos, generic soda, garbage bags and volunteers
Jan's setup was a little less complicated. It consisted of 11 bottles of cheap generic storebrand cream soda, a package of Mentos, a gaggle of garbage bags and some dragooned volunteers.
The basic concept of dropping a Mento into a soda bottle was pretty easy to grasp, but there was quite a debate about the timing. "Do we drop when you count down to one or do we drop on zero?"
5, 4, 3, 2, 1 DROP!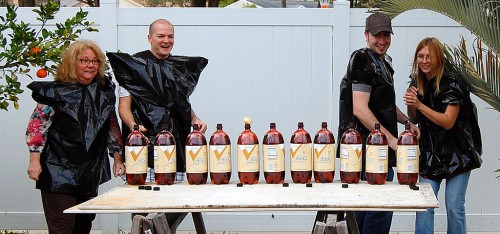 Let's just say that I hope this isn't a harbinger of what we can expect for the rest of the New Year.
Video of the Mentos Fountain Exercise
After the debacle,
I got an email from Jan:
Subject: Wrong Mentos
And, wrong soda. It has to be non-coated Mentos (weren't available) and some kin to Diet Coke. I am investigating further, but Mentos were the No. 1 problem.
She never likes my version of any story, so I'm sure we'll hear her side of it before long.