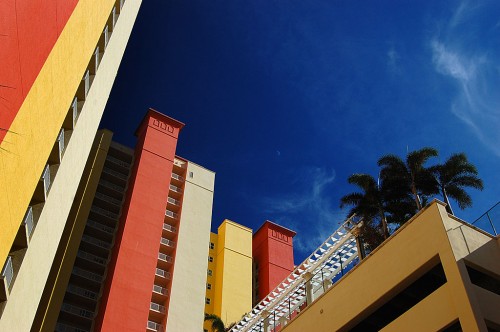 It was a beautiful day Sunday, so I convinced Osa and Anne that we should ride some West Palm Beach neighborhood streets that neither of them had explored. Some of those are much more interesting than the places most riders stick to.
We made it through West Palm Beach to Blue Heron Blvd. and paused at the foot of the Blue Heron Bridge, the closest thing that passes for a mountain in South Florida.
Osa has been fish-sitting for a friend, so she asked if we could swing by the Marina Grande, where her friend lives. I've passed by the place many times while riding and on my way to food buddy Jan Norris' house, but hadn't been near the grounds since it gobbled up a landmark seafood joint, The Crab Pot.
Marina Grande is colorful

When we pulled up to the security guard shack, Osa explained to a very friendly guard that she didn't have an ID on her because she hadn't planned on needing it on our bike ride. The guard checked her log, discovered that Osa had been there in the past and waved her on. She said it was OK for us to go through as well.
As I rode past her, I whispered, "You might want to check her water bottle on the way out, there's a rumor that Osa is a noted fish thief."
Keeping your bike safe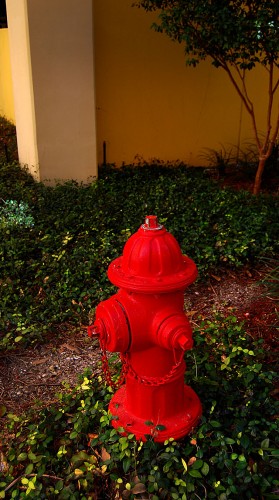 Osa and Anne went up to feed the fish.
Jim Foreman, one of the phreds, is fond of saying, "One of three things needs to be on your bike at all times: your hand, your butt or a big, strong lock."
Keeping Jim's advice in mind, I opted to stay downstairs with the bikes. I was afraid that any place where security was lax enough to let the likes of us through was probably a haven for bike stealers.
That gave me plenty of time to notice how the building's colors made everything look vibrant.
Even the foliage came alive

There was a picture to be made almost everywhere you turned. Even though Anne came downstairs raving about the saltwater tanks with their exotic fish and flowing soft corals, I didn't regret hanging out near the building's dumpsters.
I miss the Crab Pot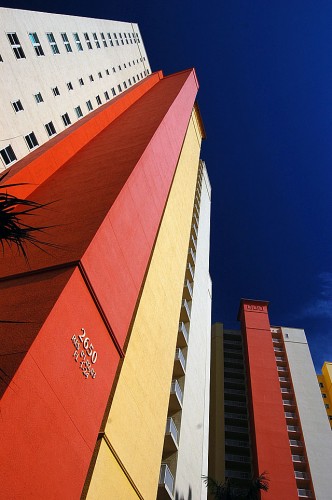 The condos are colorful and generate a lot more tax revenue for the city, but I miss the Crab Pot. It was one of those Old Florida institutions that had all kinds of kitsch hanging everywhere, but they sure could sling seafood. I cracked many a crab claw there.
You could eat inside where it was air conditioned (that's how you could tell residents from tourists) or you could eat outside and toss your scraps over the railing to be scarfed up by fish or diving seagulls.