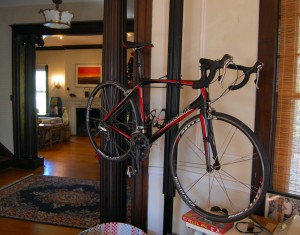 St. Louis Bro Mark, showing little respect for his older brother, wrote, "You seem to have plenty of time on your hands now that you are retired. Here is my question: Nitrogen in bike tires. Good, bad, indifferent?"
In the springtime, a young man's thoughts turn to biking. Of course, this isn't springtime in the Midwest and Mark has been freed for several years now of the danger of dying young. That's why Bro Mark's Trek Madone is serving as a piece of hanging art in his dining room.
Despite his obvious mockery, I did a little research.
One of the advantages of being older than dirt is that (A) we didn't have much history to learn because not much had happened yet and (B) the Periodic Chart of Elements was really short because most of them hadn't been discovered.
Nitrogen – the Cher of elements
Nitrogen, was Atomic Number 7, and was one of the Cher of elements, needing only one letter in its symbolic name – N – unlike nouveau elements like Ununoctium which is so new that it still has a temporary name and a three-letter symbol, Uuo.
To geek out even more, "Nitrogen is a common normally colourless, odourless, tasteless and mostly diatomic non-metal gas. It has five electrons in its outer shell, so it is trivalent in most compounds.
So, does it make sense?
Here are some reasons given for using Nitrogen:
Some dealers give you cool green valve stem caps to signify that the tire is filled with N. (I guess you could just swipe two caps and put them on your tires to make people THINK you are cool.)
It eliminates moisture. That could prevent rusty rims in car tires, but your air is sealed inside rubber inner tubes.
Nitrogen makes up about 78% of the atmosphere, Oxygen about 21% and other gasses, about 1%. That 1% varies depending on whether or not someone in the vicinity of the tire pump had Mexican for lunch or you're standing in a field near Methane-producing cows. Nitrogen molecules are bigger than Oxygen molecules, so they sneak out through the pores of your rubber inner tube more slowly.
Because the gas is dryer than normal compressed air, the density of the gas remains more constant, especially at temperatures higher than 100 degrees. Now, that's probably more of an issue if you're a NASCAR driver, but I'll concede that a blacktop road surface on a July day COULD reach more than 100 degrees.
Because Nitrogen is inert, it doesn't attack the rubber in your tubes like Oxygen does. I generally wear out my tires and tubes from the outside in, so I'm not sure how much a benefit this is.
Nitrogen doesn't support combustion. That's why it's used in commercial aircraft tires and the Space Shuttle. A Boeing 727 with an air-filled tired crashed after an overheated landing gear brake set the tire on fire, killing 167 passengers in 1986. Somehow or another, I don't think you hit speeds high enough to make this a concern.
Since it doesn't support combustion, it also doesn't support life. That means that if your car runs off the road into a canal and you reach for your bike tire in the back seat to provide you with enough air to escape, you're dead.
But, and I'm sure that this is the biggest reason that you would make a switch, Nitrogen is lighter than air. The difference is about an ounce in a car tire, so I suspect that you could spit at the start of a climb and deduct about as much weight as you'd save by converting your bike tires to Nitrogen.
The major drawback for you
I've observed that your bike is so light that you often have to chase it down to keep it from flying away, as documented in this picture taken at Cape Girardeau's Capaha Park. If it got it any lighter, it could slip away from you and become a UFO. Homeland Security will NOT be amused.