One of the reasons I don't do many group rides is that they start too early. I really hate dragging myself out of bed at ye-god-o'clock just to get dropped by a whole herd of riders.
The Rotary Club Lake Okeechobee Ride is about 75 miles away
When I signed up for the Rotary Club Lake Okeechobee Scenic Trail (L.O.S.T.) ride held March 28, I wasn't looking forward to getting up at 4:30 in the morning to drive from West Palm Beach to Okeechobee to photograph the 8 A.M. start.
Where's a cheap place to stay?
I'm not ashamed to say that I'm cheap. And my motel standards are pretty low.
It has to be clean.
It has to have a shower.
It has to have air conditioning if it's hot.
The bathroom has to have toilet paper.
A working TV is nice, but not essential. [Old joke: a pair of newlyweds check into a motel and are given the Honeymoon Suite. When they walk out, the night clerk says to the day clerk, "What do you mean 'Honeymoon Suite?' That room's just like all the others." "You're right," the day clerk says. "Except that the TV doesn't work."]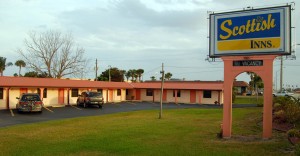 My range of options was expanded
I had one advantage in my motel quest: Wife Lila had something to do back in West Palm Beach on Saturday, so my range of options was expanded.
She has some crazy idea that, in addition to my criteria, the place should actually be big enough to turn around in and be "nice."
I decided to check out the Scottish Inns
What caught my eye was $44.10. An extra couple of hours of sleep is worth that. But, did it meet my checklist?
I remembered passing the place and recalled that the exterior looked like your old-fashioned 60s motel, but it WAS freshly painted and the grounds were well-kept.
I made a call to Jim McInnes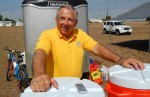 Calling a local to ask about motels generally doesn't do much good. After all, if you LIVE in the town, you probably don't have a lot of personal experience with the local sleeperies. Still, I called ride organizer Jim McInnes to see if he could give me any advice.
He had to think about it for awhile, but he said it would probably be OK.
A non-smoking room cost $54.45
When I finally called the Scottish Inns, I was told that a non-smoking room was five bucks more than the cheapest room advertised, so it came to $54.45, with tax.
First Impressions
The room was clean.
It had that sweetish disinfectant smell that's a little irritating, but the windows in the room opened and there was a strong breeze that made it tolerable.
It was Tiny with a capital T, characteristic of rooms of that era.
It had a shower.
It had an air conditioner.
It had a microwave oven and a small refrigerator. I didn't try the microwave. The refrigerator didn't seem to work all that well, but it did keep ice that I put in it overnight from melting.
There was a weak wifi connection, but I ended up using my Verizon Air Card to check my email.
You won't get lost in the bathroom
There wasn't room to back up to shoot an overall of the bathroom. Let's just say that it was clean and functional.
[A thumbnail shot is plenty big to get across the feeling of spaciousness.]
Two small nits to pick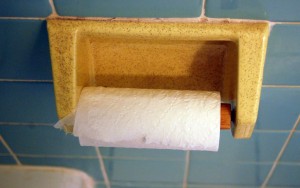 The first thing I noticed in the bathroom was that the toilet paper roll was just about empty. [See checklist above.]
A call to the front desk remedied that. It wasn't until later that I noticed a spare roll above the towels. Most places would have changed out a roll as low as this one, but I guess that's how they keep prices low.
While the manager was there, I pointed out that the wall-mounted lights above the bed didn't work. He said that they had been replaced by the two lights on either side of the bed in the picture, but the old ones hadn't been removed yet.
Would I do it again?
Yes. I got a good night's sleep on a decent bed for a reasonable amount of money. [It's hard to believe that I consider a $55 room reasonable when I think back on one I rented in the Missouri Ozarks for $2 a night back in 1965 or 1966. I can remember when the 8 in Super 8 stood for $8.]
Where is the Okeechobee Scottish Inns?
Scottish Inns
3190 Highway 441 South
Okeechobee, FL 34974
863-763-3293