Thad S sent me the following question:
I am planning on doing a loop of the Lake Okeechobee Scenic Trail (LOST) the first week of March. I plan on riding from Jupiter and taking about 5 days, with possibly a day off in Clewiston for a day of fishing. Is there a good way to get there from Jupiter? Also how regular are motels/sleeping accommodations and places to eat around the lake? We are not planning on any camping.
We will not be riding mountain bikes with suspension, but race-ready cross bikes with panniers. I don't think my single speed MTB would fare so hot on this long one! We would like to ride the dike as much as possible, but I will follow your advice for parts that are not suitable.
We would like to do between 40-60 miles day. We can go over 60 if we need to. We are both experienced cyclists, and have done some long rides in the past. I myself am a mediocre cyclocross racer, and my girlfriend is a seasoned commuter/recreational cyclist. Also, we live in South Philly, so traffic is not a problem!
Hobe Sound to Port Mayaca is a great ride

View Hobe Sound to Port Mayaca LOST Trailhead in a larger map
When I was scouting a route for Son Matt and me to ride across the state, I talked to some club riders in Hobe Sound about 708 to 76. "Oh, I wouldn't ride that if I wasn't in a group. It's too dangerous."
I don't know where he got that idea. It was one of the nicest stretches.
Traffic on the road is light and friendly. Almost every vehicle pulled way across the center line to pass me.  I'd give them a wave of thanks after the pass. I'd see them looking in their mirror, and they'd give me a wave in return. THAT'S how you know you're in the country.
You can resupply or overnight in Indiantown
If you're hungry or need water, you can go into Indiantown when you reach the intersection of 76 and 710. There's a tall bridge over the Intracoastal Waterway that doesn't have shoulders, but traffic is light enough that you can catch a break fairly easily. If you decide that's far enough for the day, you could stay in the historic Seminole Inn.

View Lake Okeechobee Scenic Trail in a larger map
Clockwise or counter-clockwise? Let wind decide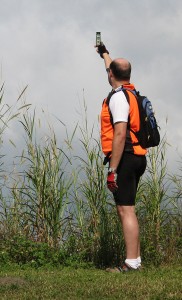 When you hit the 441-76 intersection at Port Mayaca, you have a choice.  You can go north on the paved LOST to Okeechobee or you can take 441 south. I generally let wind direction determine whether I go north or south. The dike is under construction between Port Mayaca and Pahokee (and a few points south of there), so you have to ride the road there.
441 south of Port Mayaca has been repaved recently and has small, but adequate, shoulders if you don't mind riding in traffic.
Unless you enjoy being beaten to death or have a mountain bike with suspension, I suggest you stay on the road on the west, unpaved section of the LOST. Y0u can read about my Surly LHT's shakedown cruise here.
I've marked the overall map with some places to eat.
LOST lodging options
Your best chances for finding a room are in Okeechobee and Clewiston.
I recommend the Scottish Inns in Okeechobee if you're looking for no-frills cheap. If you want something more upscale, there are plenty of motels on the road going into town.
West of Okeechobee is the Lakeport Lodge, which looks new.
The last time I was in Clewiston, I stayed at a Holiday Inn Express (because my wife picked it out after being freaked out by Reid's Motel in Moore Haven). If you want a more historical place, go for the Clewiston Inn. It was a little rundown when I stayed there in 1990, but it's been rehabbed since then.
The Loggerhead Club and Marina right on the lake next to the trail in Pahokee has a number of small cottage-like accommodations. They were brought in after the 2005 hurricane season. When I called, they said the rooms rent from $80 to $125. They suggest making a reservation two weeks in advance because they fill up quickly in season.
Approximate distances for planning purposes
(Hobe Sound to counterclockwise loop of Lake Okeechobee Scenic Trail)
Hobe Sound to Port Mayaca Trailhead – 34 miles
Port Mayaca Trailhead to 441 Pier in Okeechobee – 22 miles
Okeechobee Pier to Okeetanta Trailhead and 78 – 4 miles
Highway 78 to Moorehaven Trailhead – 34 miles
Moore Haven Trailhead to Clewiston Marina Trailhead – 13 miles
Clewiston Trailhead to Southbay Trailhead – 13 miles
Southbay Trailhead to Pahokee – 11 miles
Pahokee to Port Mayaca – 14 miles
Some of these distances are accurate; some will be longer if you have to detour around construction.
PalmBeachBikeTours Pages with more LOST info