My son, Matt, and I wanted to end off 2007 with something special – a cross-Florida trip from Hobe Sound, FL, on the east coast, to Ft. Meyers, on the west coast.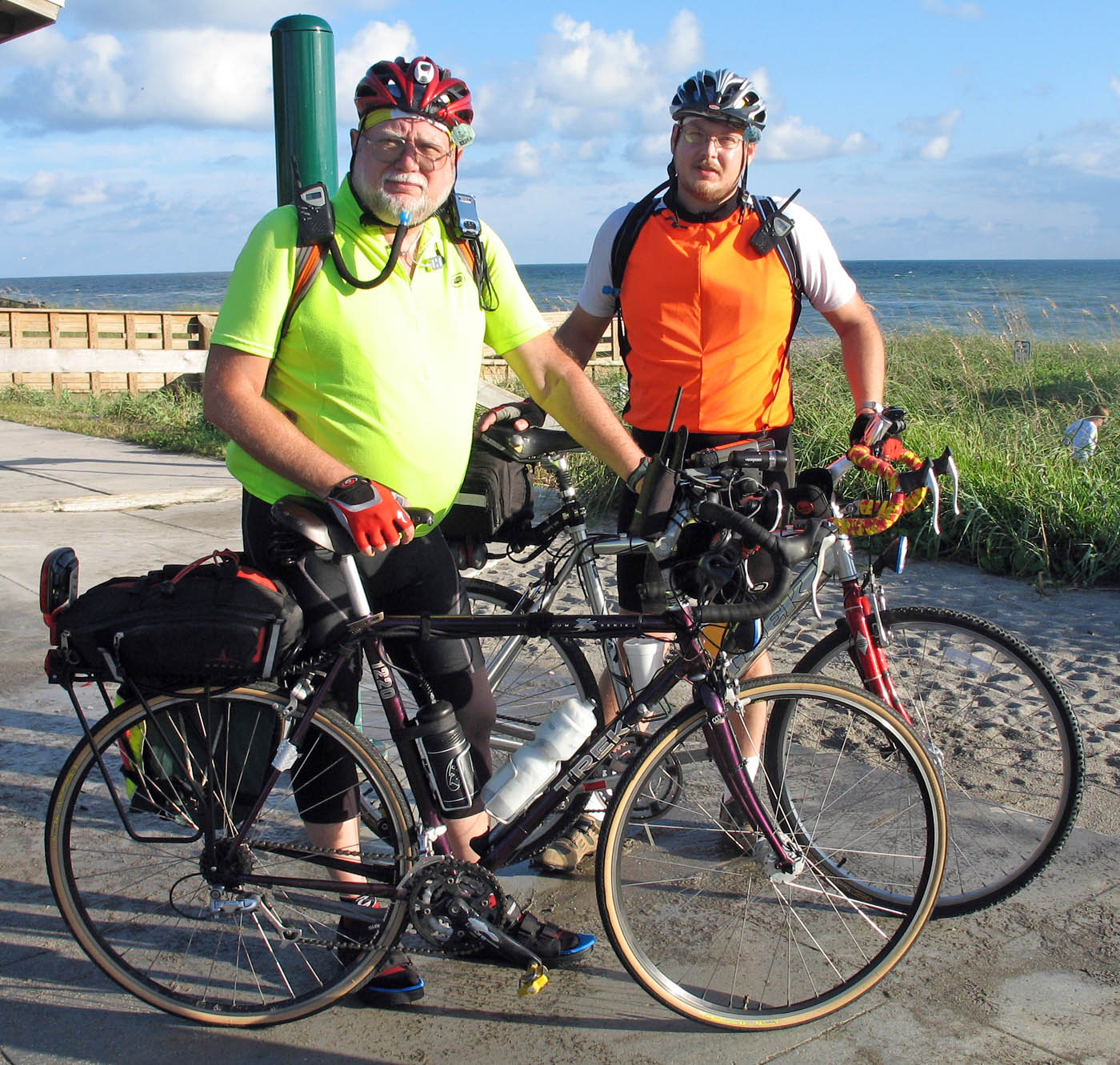 The weekend of Dec. 9 turned out to be perfect: cool temps with a strong tailwind out of the east. By the time we got to Port Mayaca, though, the wind had shifted slightly to the north, meaning that our next leg would have a strong headwind component.
Our original plan was to pick up the Lake Okeechobee Scenic Trail (LOST) at Port Mayaca, and let it carry us north, east and west around the Okeechobee arc of the Lake. Then, we would jump on 78, a newly paved rural road with good shoulders and make it into Moore Haven. The LOST sits 30 feet above surrounding terrain with no windbreaks, so the prospect of headwinds wasn't pleasant.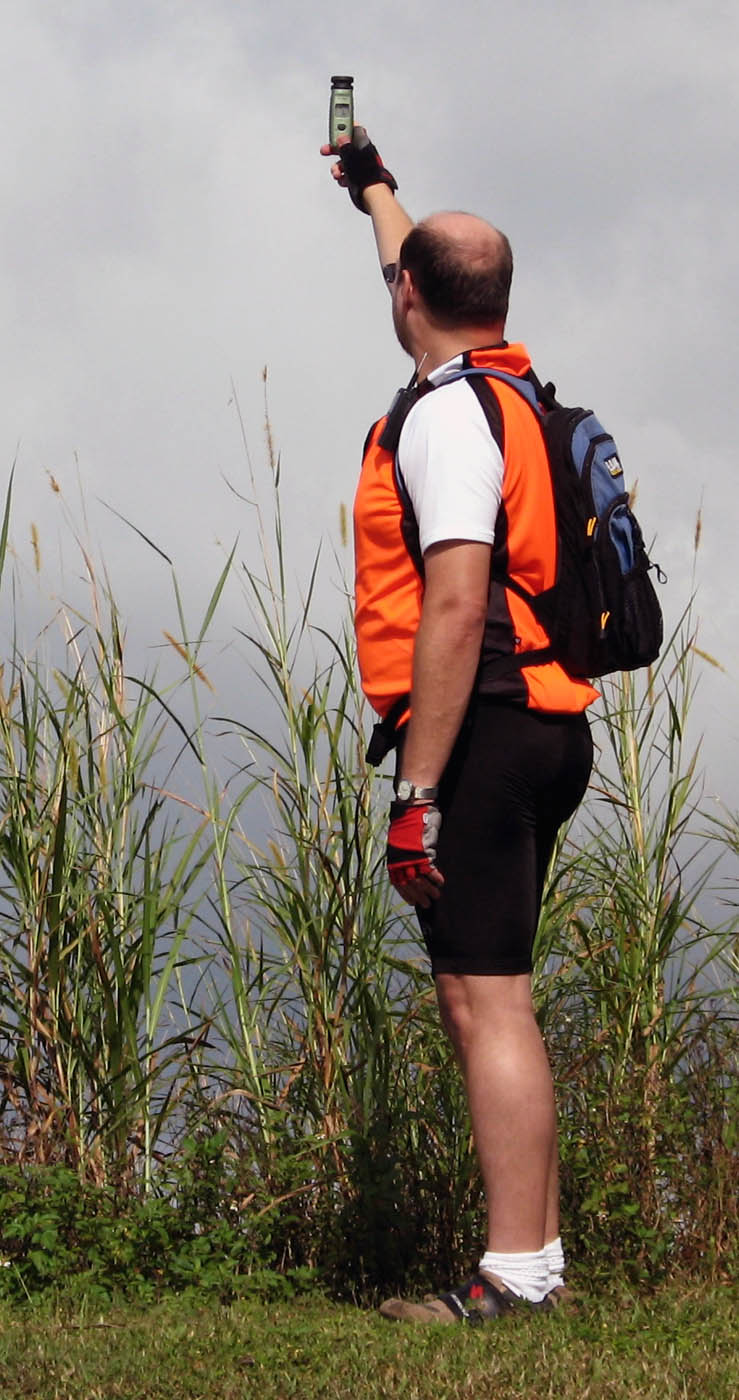 A cheap Radio Shack wind gauge confirmed that the winds were 12 to 15 mph and gusting higher. We decided to ride south on 441 to pick up the LOST at Pahokee. We weren't looking forward to this stretch, because the road is narrow and under construction. What shoulder there is is badly broken. As it turned out, the southbound section wasn't as bad as we had feared. It wasn't great riding, particularly with a strong crosswind that left my shoulders sore from trying to keep the bike straight, but I'd do it again in a pinch.
We stopped at Canal Point for a snack and to replenish our water. I had sucked down almost a whole Camelbak of water and would have been dry in another 10 miles or so.
The road improved once we got to Canal Point and the run into Pahokee was nice. We climbed back onto the LOST and scoped out the improvements being made to the Marina. The campground was mostly wiped out by the 2004-2005 hurricane seasons and a fleet of very nice looking trailers have been brought in for rentals. They look like a nice place to stay if you want to make Pahokee your fishing and biking layover.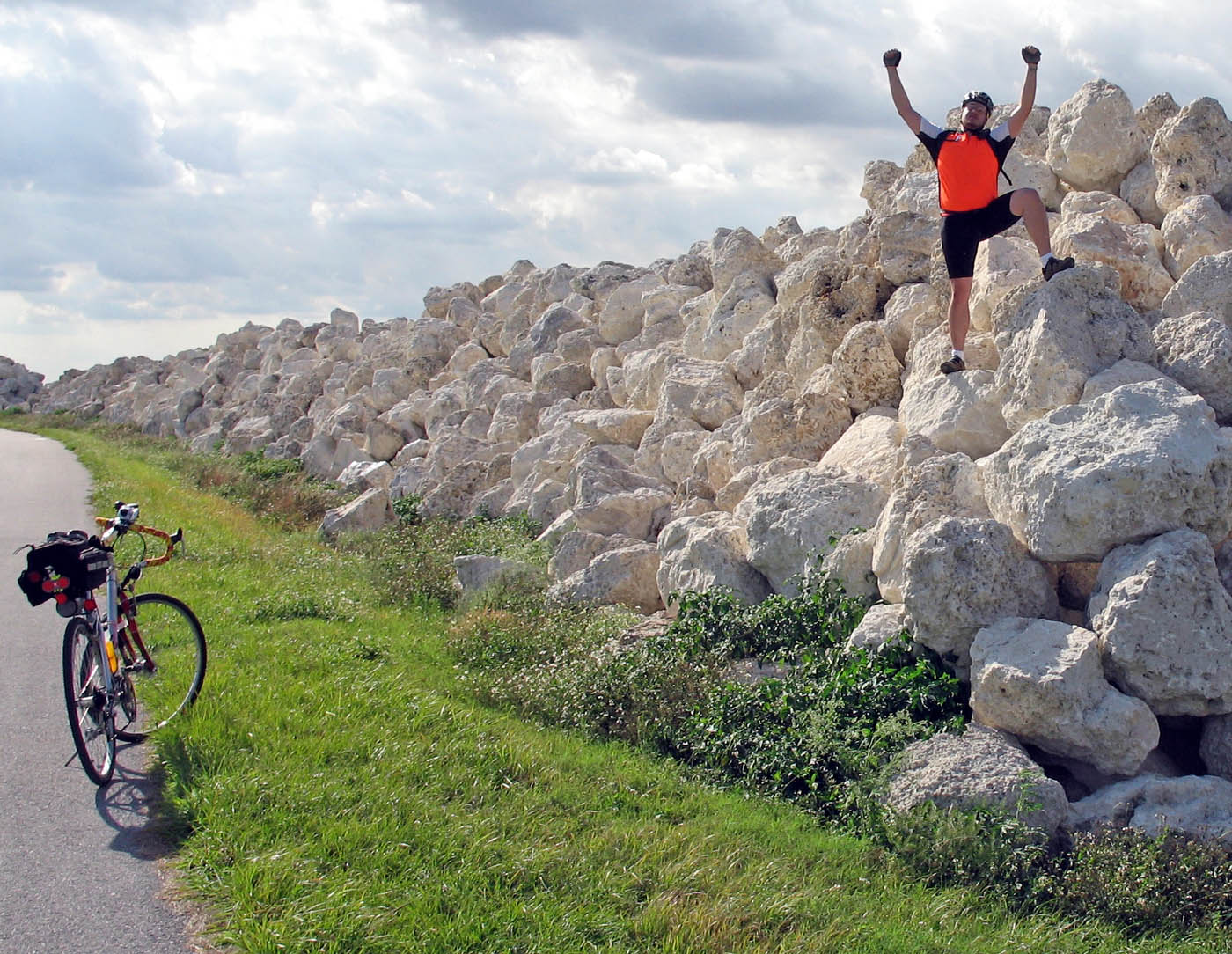 The trip south along the LOST was great except for the strong cross wind that would occasionally gust strong enough to almost knock you over. My brother, Mark, likes to lift his bike overhead to celebrate milestones. Matt, who rides a heavier bike, opted to just PRETEND he was lifting his bike when we chanced on this pile of rocks used to reinforce the dike.
The ever-changing game plan was to stay overnight in Moore Haven. I had met a mother-daughter team riding around the LOST a few weekends before who said that they had stayed at the Rice Motel under the bridge in Moore Haven, so I made reservations there.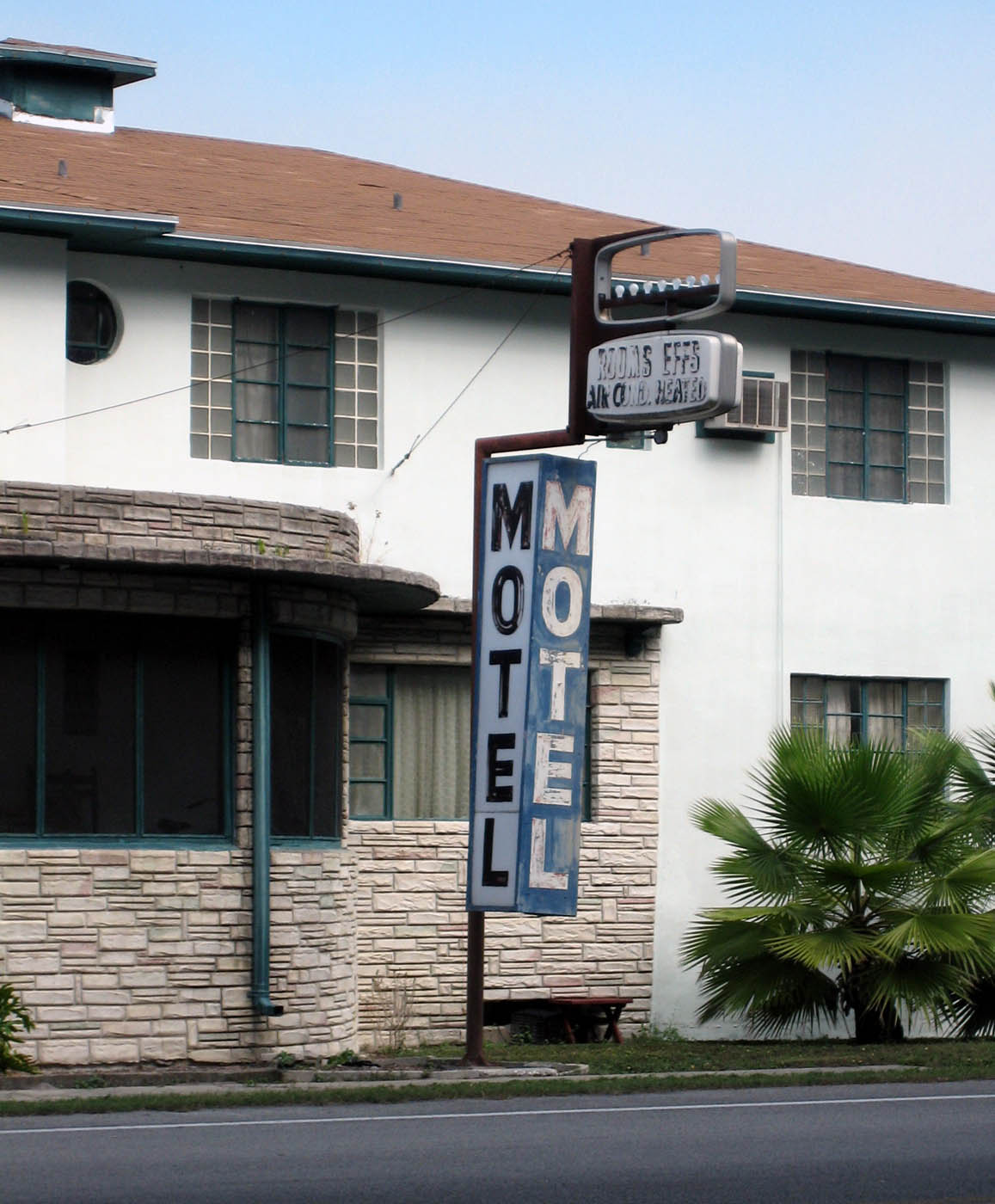 My wife, who was going to meet us, called me just before dark to say that she had reservations of a different sort about the Rice. She wasn't going to unload the car until we got there. Shortly after that, she called again to say that she was backtracking into Clewiston to find another motel. When we saw the Rice the next morning in the daylight, I can understand her desire to go to Clewiston. The inside looked worse than the outside.
When we hit Moore Haven, we had logged 90 miles for the day. Matt, who had never ridden a century, wanted to go the extra 10 miles to get one in before the end of the year. I decided that I would go back to Clewiston with Lila, my wife, check into a motel and then come back for him. I wasn't crazy about him riding alone on U.S. 27 at night, but the road has a wide shoulder and he had plenty of lights. I pinned a reflective slow-moving-vehicle triangle on his back and launched him on his way.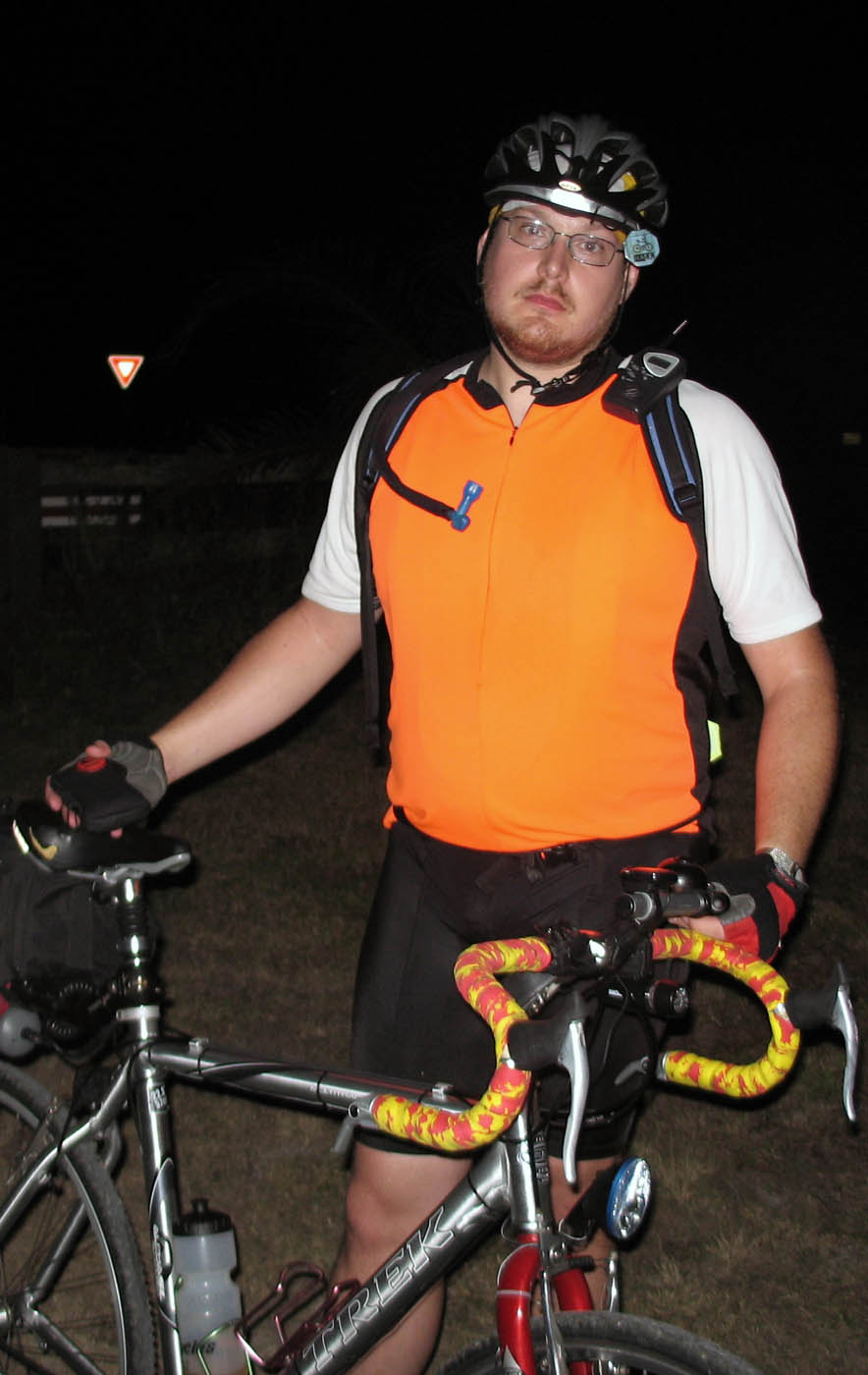 On the way back, I was concerned that I might miss him on the four-lane divided highway with lots of headlights to confuse things. Surprisingly enough, the super-white light from his generator-powered LED headlight was easy to pick out. We coordinated his pickup point with FRS radios.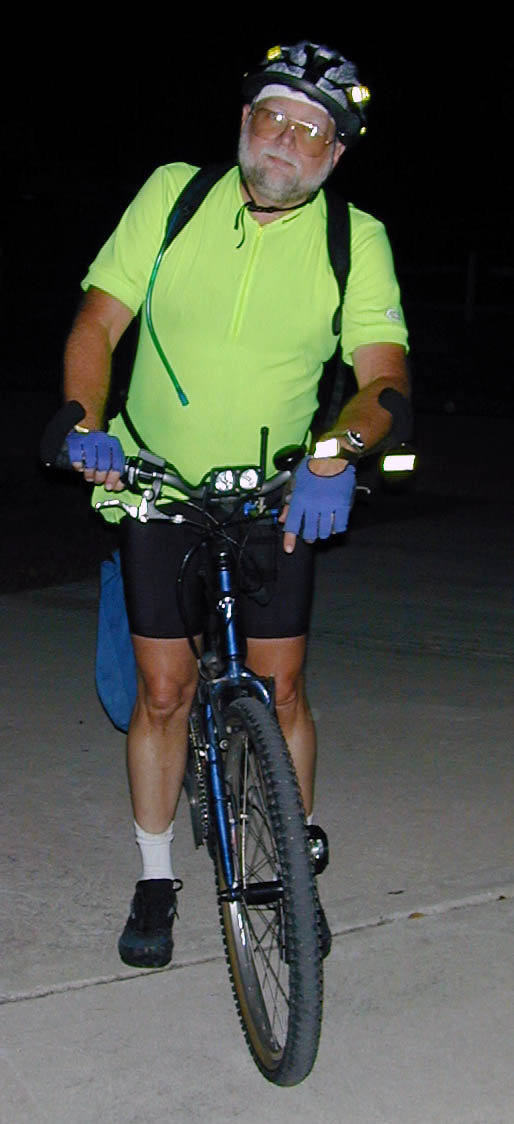 It had been a long day, even with the help of favorable tailwinds for the first 50 miles. Of course, I can't make much fun of Matt after his first 100-mile ride. I didn't look much better Dec. 11, 1999, when I rode my first unsupported century on the West Orange Trail near Orlando.