If you've been wanting to ride the Lake Okeechobee Scenic Trail (LOST), but haven't done it because you didn't want to be out there alone, with no bathrooms and no refreshments, March 27 would be a great time to get your initiation.  The local Rotary Club is sponsoring its 7th Annual Ride-Run-Walk event that Saturday.
Restrooms and refreshments will be provided.
The ride starts and ends at the Scott Driver Boat Ramp on Highway 78, west of Okeechobee and on east side of the Kissimmee River. They are featuring 12, 20, 40 and 54 mile round trip courses. 54 miles will take you from the north end of the lake down to Port Mayaca and back. Since there is only one trail, it's impossible to get lost on the LOST.
There is nothing magic about those distances, either. Just ride until you are half as tired as you want to be at the end, then turn around.
Spiffy Rotary Club web site
This year the Rotary Club's LOST ride has a spiffy new web site. You can see it here. There are details about the ride and an entry form. (We'll have one of those at the bottom of the page.)
The Hampton Inn has special rates for LOST riders. If you want cheap and clean, but nothing special, I've had good luck with the Okeechobee Scottish Inns. Here's a review I did after last year's ride.
Photos from the 2009 ride
Here are still photos and a video from last year's Rotary Club event. It was a great morning with perfect weather, except for a gusty wind.
Starts and ends at scott driver boat ramp
Scott Driver Boat Ramp on Highway 78
A ride on the LOST can change your life, good and bad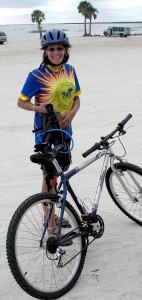 Mary Garita, a coworker for more than 20 years, showed up for the 2004 ride, having done very little riding and not knowing what to expect.
She liked it well enough that we became regular riding partners and logged thousands of miles together. For awhile, we were riding the LOST a couple of times a month including an unsupported century on the south end of the LOST in November of 2006.
A month later, she crashed on the LOST, fractured her skull in five places and hasn't been able to work or bike since. There's a reason for that helmet requirement for that ride. Trust me.
The LOST isn't a dangerous place to ride, but a few simple precautions are in order.
Here's what I carry, supported or not:
Suncreen. There is NO shade up on the dike.
Spare tube and a way to inflate it.
Plenty of water; there are no facilities to buy any on the dike (although it will be provided at the rest areas)
A cell phone, just in case.
Emergency contact information (remember Mary?)
Mosquito repellent. Not necessary in the daytime, but bugs are brutal for about 45 minutes right at dusk.
A camera; not absolutely necessary, but I guarantee that you'll spot something along the trail that you're going to want to share with your friends.
Here's the entry form
This is a great event. I've been to all but one of them. Here's your Rotary Club 7th LOST Registration Form.