Wife Lila and I visited the Santa Fe (NM) National Cemetery in June to find the graves of her father and her uncle. I'll get around to posting that story some other time.
Virtual friend John Gorentz, AKA Spokesrider, combines cycling and historical research. He recently posted about searching for the tombstone of a farmer who knew enough of a local Indian dialect to intervene in a dispute over apple trees in the 1800s.
Indian Graves at Santa Fe National Cemetery

That got me thinking about some photos I took of some tombstones at the Santa Fe National Cemetery. Some of them didn't have names; some just said "Civilian" or "Navajo" or "Scout."
This one had a name – Mrs. Butt – and the qualifier, "Apache Woman."
I did some quick searches and found that a lot of graves had been relocated to the national cemetery from far-flung forts over the years because of neglect and vandalism.
I don't know if that's where these came from.
Who was Dennis O'Leary?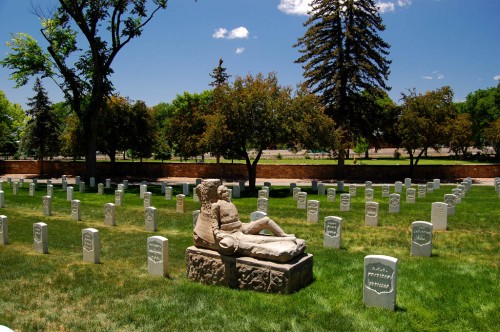 While looking for those pictures, I was drawn to some shots of a statue that was near the Indian graves.
It was a very detailed sandstone carving of a young soldier leaning against a log. It is the only statue in the whole cemetery.
Inscribed on the stone
His name: Dennis O'Leary
His rank and unit: Private, Company I, 23rd Infantry
His date of death: April 1, 1901
His age at death: 23 years, 9 (?) months
Eyes staring into nothing for 107 years
When I took the picture, I was haunted by the idea that this very lifelike stone soldier  had been staring with lifeless eyes for 107 years.
I wasn't sure what conflict he was engaged in when he died, but I figured it wouldn't be too hard to find out. It turns out that there are more questions than answers about Pvt. O'Leary.
Was O'Leary a suicide or a TB victim?
Charles Hillinger of The LA Times wrote a very good piece on the tombstone in 1985.
Legend has it he was an unhappy soldier stationed at the remote outpost. He is supposed to have carved the statue in his free time out of sandstone in the mountains not too far from the fort, even engraving the date of his death on the tombstone.
According to the story, he wrote a suicide note describing his carving and its location and asked it be placed over his grave. Then he reportedly shot himself.
Military records, however, show a Pvt. Dennis O'Leary died of tuberculosis at Ft. Wingate on April 1, 1901.
Yet, the legend has persisted ever since the remains of O'Leary and the statue were moved from Ft. Wingate to the Santa Fe National Cemetery in 1911, when the fort was disbanded and all its graves moved here.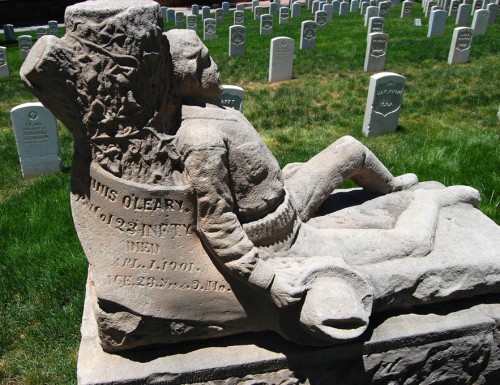 If anyone knows the REAL story behind Pvt. O'Leary, the folks at the national cemetery would like to hear it. Not a day goes by that someone doesn't ask them about the statue.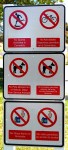 Bike Content: because we had a lot of ground to cover, I didn't bring my bike. Santa Fe, with lots of congestion, had lots of cyclists on the streets. They could make as good or better time than the gridlocked cars. Santa Fe was the first place I had ever seen Sharrows in the wild. They seemed to work well.
Interestingly enough, the cemetery has a signboard of prohibitions, which includes "No Sports Activities in Cemetery," with pictographs of a runner and a bicycle with the "prohibited" slash through them. If you're using the bike as transportation, not as a "sports activity," I wonder if they'd bust you?