I saw this over on the Cycle Jerk yesterday and sent it over to my 5-year-old grandson, Malcolm, who is laid up with some kind of intestinal disorder that I hope he hasn't passed on to me.
Artist, not dresser
His mother replied, "He liked it. He said she's a really good drawer. That's draw-er, as in  artist. Not drawer, as in dresser."
That brought back the Nightmare of Art 101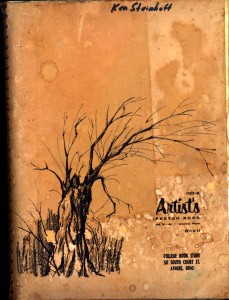 Art 101 was a requirement for Ohio University photo majors.
I was pathetic.
I couldn't draw a conclusion
One of the first assignments was to fill a sketchbook with renderings of a common object you see every day.

We weren't on the same page
The first problem was that we weren't on the same page when it came to defining "rendering"
He was thinking, "picture: show in, or as in, a picture; "This scene depicts country life"; 'the face of the child is rendered with much tenderness in this painting'."
My work came closer to "melt (fat or lard) in order to separate out impurities; 'render the yak butter'; 'render fat in a casserole.'"
My first subject was my desk lamp
After a number of attempts that made primitive art on cave walls looked advanced, I tried to fake it with a collage.
Some of the sketches showed some real bursts of talent
That's because the girls working on either side of me, recognizing that there was no danger of ME raising the grading curve, agreed to "help" me with my sketches if I'd "help" them with their required photo course. After a couple of contributions, I had to pass on their work. The contrast between my stick drawings and what they were doing, even after I asked them to "dumb it down," was too obvious.
Here's a photographer's workaround

Then I found that I could put a negative in the enlarger, project the image onto my sketchbook and use my pencil to make the reflected image a solid gray color, ending up with something that actually could be identified.
This, obviously, wasn't a good long-term solution.
I become an object of pity
Finally, the prof said, "This isn't working out. You're trying, but….
"Since you're a photographer, I'll accept a photo or a contact sheet of whatever you've taken for the day as being your "sketches."
At the end of the quarter, he pulled me aside and said, "I'm going to give you a passing grade, but, thank god you're a photographer."
My sketch book is available for purchase
If anyone sees real talent in my primitive art, I will make my sketch book available to the highest bidder.