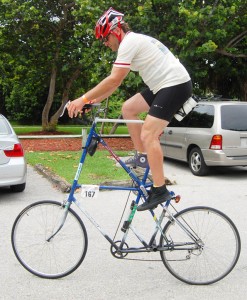 I ran into a guy riding a high-rise bike on the Lauren Katzenstein Celebration Ride Sunday. We talked bikes a few minutes and then he said, "I think I know you from somewhere. Oh, yeah, you were at the last Freakbike ride."
After I determined that he had liked my coverage, I confessed that I was the guy.
He suggested I check out the ride notice on the Freakbike Militia web site.
The Summer of Love Ride is July 1
Here's Kenny P's info
Some ol' Hippy told me about the Freakbike Militia's Groovy little cruise coming up on Wednesday, July 1st, 7:00pm at the corner of Southern and Flagler.
Yeah Man, said it was some sorta "Summer of Love" 60's Ride. A Freakstock kinda thing with Peace signs and Tye Dye, The Doors and Hendrix, Choppers and Cruisers, Woodstock and Mini skirts, Go-Go Boots and John Lennon glasses, Tall Bikes and Low Riders, Dead Heads and Electric Kool-Aid…….You get the idea.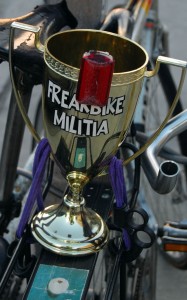 Meeting at 7:00pm and leaving at 7:30pm sharp. 60's attire is highly encouraged, c'mon, support your local Goodwill store!

Headlight and taillight are mandatory, helmets are encouraged, mandatory (by Fl. law) for the kiddies 15 and under.
This is an unsupervised ride at your own risk deal, we need to police ourselves to keep this ride going,
if you see someone being a Gomer, call them on it and tell 'em why.
**The crossing over the yellow line or blasting down the sidewalks and yelling at pedestrians and drivers that sorta stuff.

This will be the original route, through City place, down Clematis to the Fountain, and returning the same route.
There will be dumb games and the transfer of the FBM Cup. C'mon out and get your groovy on with the Freakbike Militia.

"Peace, Love and Freakbikes"
These are mellow folks
Don't let the name Freakbike Milita scare you off. These are nice folks who spend a lot of time fixing up their bicycles, some of which are legitimate pieces of art.
Some are families with lots of riders bringing their kids.
[Note: I DO resent them saying that 60's duds are available in thrift shops. I've got stuff of that era in my closet. I won't say that it'll still fit, but it's hiding in a corner.]