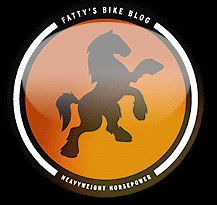 One of my daily routines is to read about a dozen bike blogs to catch the buzz.
A couple of weeks ago, one of the sites mentioned The Fat Cyclist, written by a guy who is no longer fat because of his cycling.
In its early days, it was much like any other bike blog: heavy on bike porn, ride reports, funny stories.
Then it – and The Fat Cyclist's life changed.
A thumbnail sketch of Fat Cyclist in his own words
Besides being a middle-aged guy who loves cycling, I'm also the father of four kids (2 boys, identical twin girls), and the husband of a woman — Susan — who is fighting metastatic breast cancer.
So while I still write lots of the jokey stuff I always have, I'm now more inclined to write the occasional serious post, keeping my family and friends (including the hundreds of friends I've made on this blog, but have never met in person) up to date with how that battle is going.
Never flinched
Fat Cyclist wrote an unflinching account of his wife's heroic struggle with cancer and the toll it took on him and his family. He did it with grace and style that made your spirit soar on her good days and to make you feel her pain (and his) on the bad days.
Susan died last night
I would have added my condolences to his posting this morning, but 1,258 folks in the blogging community had beaten me to it. If you have trouble getting the site to load, keep trying. The server must be getting hammered this morning as the word gets out.
Lance Armstrong was right
Lance had it right. Some days it's really NOT about the bike.