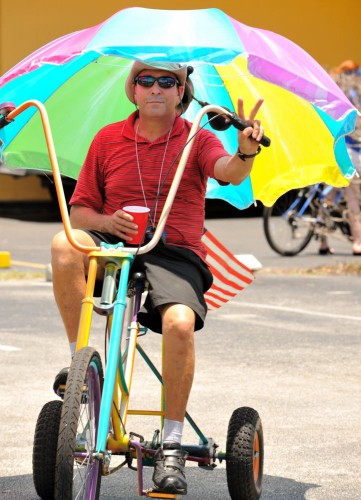 Folks keep asking me when this year's Tour de Bar is going to be held. I don't know. What I WILL do is pass on this message from a friend who is a member of the Hash House Harriers, described as "the drinking club with a running problem."
I can't tell you if the information is correct. You may get there any have to organize your own pub crawl on the fly. It's not exactly my kind of bike ride, so you won't see me there. Maybe somebody will provide pix like they have in the past.
Sat June 4 – Tour De Bar '11
Come on a pay as you go bicycle pub crawl down US 1
and over to Singer Island with 400 other pub-cycling folks!!
Starting location is
The Brass Ring Pub
200 US Hwy 1
North Palm Beach , FL 33408
D'erections
Exit I-95 at North Lake Blvd (exit #77) and go EAST
Go EAST on North Lake Blvd 2.5 miles to US 1
Go SOUTH on US 1 and into the shopping plaza
on the WEST side of the road.
Park at the north 4 rows of the parking lot opposite the Brass Ring.
Tour De Bar 2011 will start at noon, 6/4/11.
We will be raising money again to pay for Palm Beach Shores police,
and the remainder will go to the
Give a Life Foundation promoting organ and tissue donation awareness.
100,000 are on waiting lists.
Thank-you again for your continued support of this charitable event.
Let's rock…
2009 and 2010 Tour de Bar photos