What was billed as the 30th Annual Tour de Bar drew hundreds of bike riders and imbibers to local bars in the north Palm Beach County area, according to Darren Ayoub, a participant who was kind enough to send us these pictures.
Crowds gathered at The Brass Ring on U.S. 1 around noon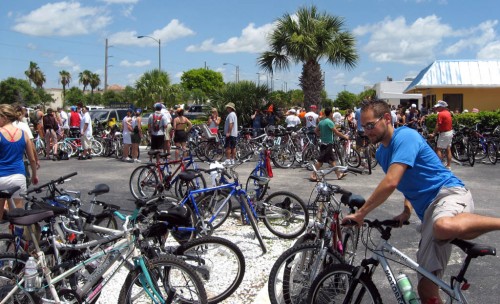 Darren did a great job dealing with the heat, humidity and party riders. He managed to stay upright and well-focused in his mission of covering The Tour.
Riviera officer was helpful
At one point, Darren said, the bikers were having problems crossing busy U.S. to to get to their second destination, Bettyann's Bar. An officer pulled up, blocked traffic with her car and helped the participants cross the street.
She got on her car loudspeaker and offered a friendly piece of advice: "Lock your bike to something or it won't be here when you get back."
Inlet Harbor Bar / Liquors had it together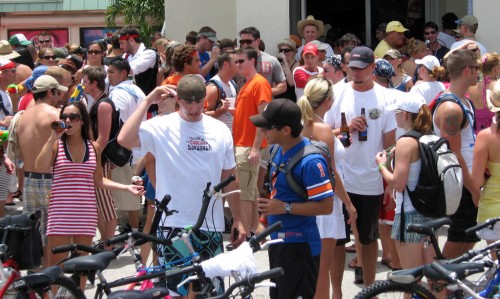 The folks at Inlet Harbor Bar / Liquors on Blue Heron Blvd. were ready for the large group of thirsty riders. They had portable bars assembled outside to serve cash-only customers.
Establishments participating
The Brass Ring Pub, 200 N. U.S. 1, N. Palm Beach
Bettyann's,  2941 Broadway, Riviera Beach
Inlet Harbor Bar / Liquors, 146 E. Blue Heron Blvd., Riviera Beach
Down Low Pub, 237 E. Blue Heron Blvd., Riviera Beach
Sailfish Marina, 98 Lake Dr., Palm Beach Shores
Portofino Italian Grill, 2447 N. Ocean Dr., Riviera Beach

Who toured de bars?
Darren said the 300-some riders ranged in age from 21-year-0lds to "some who could qualify for senior discounts at the movie theaters."
Several riders, he observed, wore shirts commemorating the 15th Annual, 25 Annual and 30th Annual Tour de Bar. (He had no clue if the event had really been celebrated that long or if the bar tourers use a different calendar than the rest of us.)
Some first-time riders had TDB Virgin scrawled on their arms in magic marker.
One team rode for a serviceman in Iraq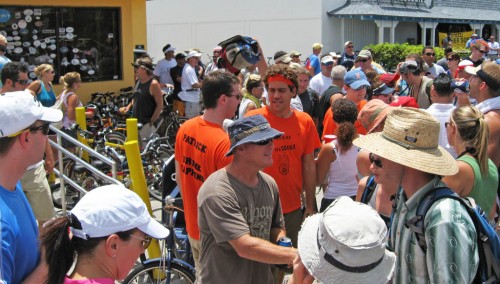 Darren said that there were several teams – or at least groups of people who wore similar clothing.
One group dressed as pirates, complete with swords, pistols and eye patches. One even had a fake parrot on his shoulder.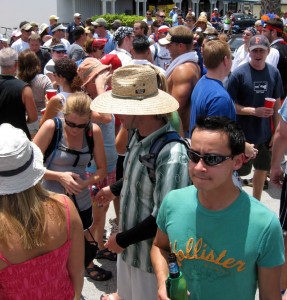 Another group, dressed in camouflage shirts with "GI Jim" on the back had printed, "Riding for Sgt. Jim Lashey serving in Iraq." At one stop, the team shared a video call with the distant soldier, Darren said.
I guess I'll have to show up next year. It sounds like a great way to spend a Saturday afternoon.