I thought the Arbus Ring Lock from Speedy Locksmith would be just the thing for my Surly Long Haul Trucker. It's a lock that bolts to the seat stays. When you want to secure your bike, you turn a key, pull down on a lever and a metal ring slides out to lock the rear wheel through the spokes.
The only catch is that you have to be smarter than the lock to install it.
They are popular in Europe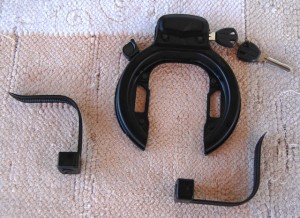 Son Matt said he saw lots of them when he was evaluating software in Denmark.
They're not intended for high-theft areas or for overnight security, but it seemed like just the thing for when you run into the store for a couple of minutes.
I was placing an order with Velo Orange when I saw a listing for the Arbus ring lock. I figured $25 was a small enough investment to risk. If it worked, cool. Either way I'd get a review out of it.
Only four parts
Installation should be a snap. There are only four parts: the lock, two plastic straps and two keys (OK, that's five parts if you count the keys separately).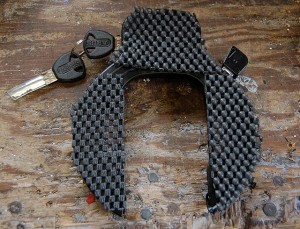 I was so confident that it would go smoothly that I used Marine Goop to apply some rubber backing to the lock so it wouldn't scratch the paint on my LHT and I cut some pieces of innertube for the other places it might rub.
I let the Goop dry overnight and then put the bike up on my Park Tool PCS-10 Repair Rack to attach the lock.
It should lock the wheel through the spokes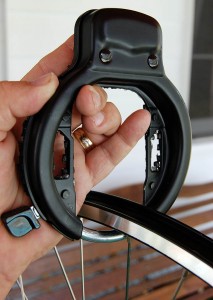 Before I got to the hard work, though, I pulled a spare rim off the Cycle Tree and checked out the theory.
Yep, it makes sense. That bike ain't going anywhere. I don't think the bad guy could get up enough speed to damage your spokes, either.
I had a NoMo moment
I worked with a guy we nicknamed NoMo. At some point during every call to the Help Desk, he'd say, "I'm no moron. (Pronounced in his drawl as no mo-ron.)
Here's a rule of thumb: if you have to go around telling folks that you ain't a mo-ron, there's a pretty good chance that you are one.
I started off placing all the innertube cushions where I thought they'd go and then I took the plastic strapping that resembles a pipe clamp and started screwing.
First off, even though the groove for the screw driver was fairly deep, it wasn't long before I had buggered it up pretty good, particularly since I tried about four different variations of how to put it on.
Wrestling that stiff piece of plastic was NOT a task someone should attempt on the Lord's Day. I was careful to pad the LHT against scratches, but I'm afraid that I may have scorched the paint in a couple of places.
Here's kinda what it should look like
But, not exactly. The strapping shouldn't go around the outside of the lock (I don't think). But, it'll give you a r0ugh idea of what it would look like.
No matter what I did, I couldn't get the thing to look or feel right. The more I changed it around, the more rounded out the plastic strap screw hole got.
I finally decided to bail before I hosed it up completely.
Will I revist the Arbus ring lock?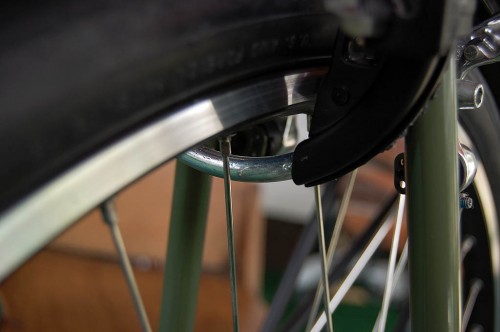 I may give it another go, but I don't know if it's really worth it. The website description says it weighs about 13.5 ounces (385 grams). Even though I'm not overly concerned with weight, I think I could spend those 13.5 ounces better somewhere else.
It might be OK for a commuter bike, but I wouldn't put it on a tourer.
I'll send a link to this page to the Velo Orange folks who will probably tell me exactly how I SHOULD have put in on in about three minutes time. If they do, I'll publish detailed pictures to save someone else my hassles.