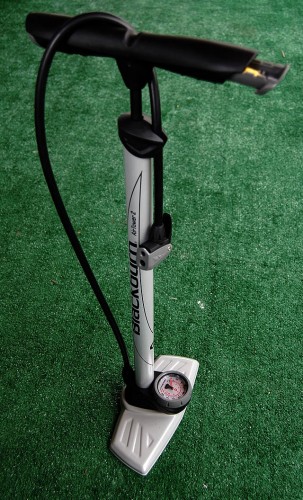 My faith in the good folks at Blackburn has been restored. I wrote June 13 about how the hose on my Blackburn TPS-2 floor pump had blown out while helping another rider.
Initially I said that I expected an email reply in minutes to my message to Blackburn because the company had been so responsive in the past. When several days had gone by with no reply from Blackburn, I ended up calling the company, which acknowledged that they were behind in their email.
When Agent Courtney heard which model I had, she said that replacement parts were no longer available and that they would send me a comparable pump in "seven to 10 days."
To my pleasant surprise, a big box showed up today – four days later – with a brand new Blackburn AirTower 2 in it. That's good customer service: under promise and over deliver.
The Blackburn Air Tower 2 has some nice features
Here's the official feature description from the Blackburn website:
Redesigned from the ground up for 2008 for improved performance and reliability. A stout steel barrel and welded steel base provides unsurpassed stiffness and stability, and the ergonomic T-handle now features storage drawers on the ends. The presta/Schrader head is now more durable and rebuildable.
Available in Blood Red and Silver
Max Pressure: 140 psi / 9.75 bar
Barrel Material: Steel
Weight: 3.8 lbs / 1.7 kg
Head has been redesigned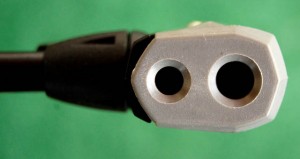 The old TPS-2 head was T-shaped, with a Presta fitting on one side and a Schrader on the other. You turned a selector knob to determine which way the air would flow. I wore out one head and Blackburn provided me a rebuild kit.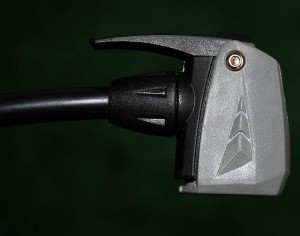 The new model has a single head with two holes in it. The smaller is for Presta valves. You lock it in by pulling up on a handle, which seems counter-intuitive. It seems more natural to press the handle down, in the direction of the valve, when you are trying to attach it.
In real life, it's not bad. I tried it on both types of valves and it worked the first time on both. Snapping the handle down when you're done causes the valve to blow off with little loss of air.
Some Amazon reviewers complained that it didn't work properly with Presta valves, but I didn't have a problem. Either the head problem has been fixed or it was pilot error. I'll let you know if something changes.
I wish the gauge was on the top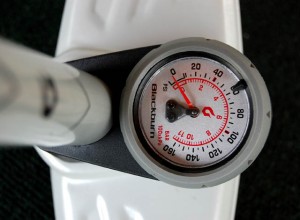 I wish the pressure gauge was at the top of the pump instead of the bottom, but the numbers are bright and there's a handy-dandy indicator you can set to help you find the right pressure while you're pumping.
I can't compare the two pumps directly since the hose doesn't work on my old one, but I'm going to go out on a limb and say that the TPS-2 as I remember it seemed to fill the tire slightly faster. Maybe this one is designed to pump less air, but at a higher pressure.
The website description says the maximum pressure is 140 psi, but the gauge goes to 160 psi and the instruction sheet attached to the pump says 160 psi / 11 bar.
Extra inflators a nice touch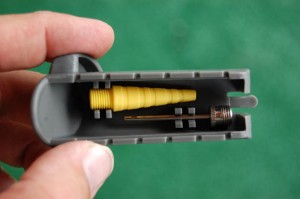 If you have kids, you know how many things there are to blow up: balls, rafts, pool toys, etc.
The Air tower 2's handle comes with two slide-out inserts. One of them is empty for whatever you want to put in it; the other contains a raft inflator and a ball needle inflator. To sweeten the deal, they clip into the holder so they won't get lost (as easily).