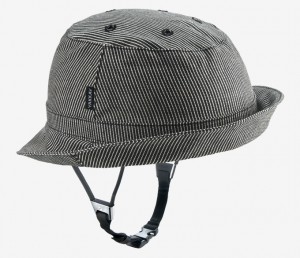 My buddy, Keefer, sent me a link to check out high-fashion bike helmets. I have to concede that they are the un-dorkiest helmets I've seen, although I have to agree with one comment to the review that your first reaction to seeing one in the wild would be, "WOW, that dude / dudette has the biggest head I've ever seen."
Here's the PR Blurb
YAKKAY "SMART ONE" is a new smart design that differs by its rounded ear straps and adjustment buckles in polished stainless steel. But the real difference shows when one of the many different covers is attached to helmet – It changes from its characteristics of a helmet to a hat and becomes an accessory to your outfit. You adjust the helmet to your head with a number of adhesive foam circles which have the added advantage that air can circulate between them. When you are riding your bicycle, air will be pushed into the helmet, and pleasantly cool down your head. In addition, your head will stay dry in rainy weather, as the covers are designed without open holes. The helmet fully meets the European CE standard (EN1078).
Cool looks don't make a cool helmet
My gut reaction is that this looks like an old-fashioned brain bucket. I can'
t see how that could be anywhere near as cool as my Giro Atmos Helmet. (Temperature cool, not fashion cool.)
The Atmos has eight-gillion holes in it and I still snatch it off my head every chance I get. I can't see how a half-bowling ball with about five holes in the top of it could work in hot weather. (For the record, I never ride without my helmet. Here's the reason why.)
Maybe the WEARER makes it cool
Somehow or another, I don't quite see myself wearing the fur model or the Tokyo Jazz Pink version. If you're interested in seeing all the models in all their spendor, go to the YAKKAY site.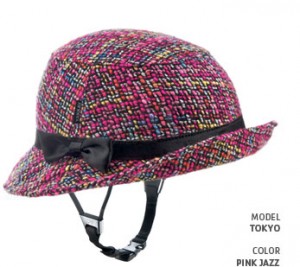 They ain't cheap. $165 plus a ticket to Europe. I didn't see any U.S. dealers nor anything about shipping to the states.
The site DOES have a short video about how to adjust the helmet that would apply to any helmet. (Don't have it cocked too far back, nor pitched too far down.)