14 Days Eczema Curen-bottom: 10px;" title="Flashlight used as bike headlight" src="http://www.palmbeachbiketours.com/wp-content/uploads/2010/04/2010-04-16-Flashlight-for-bike-headlight-500×373.jpg" alt="" width="500″ height="373″ />Kid Matt shot this picture in front of a local supermarket the other night with his cell phone. He was questioning whether or not this was better than no light.
I'm going to have to vote for low-tech over no-tech any day. What I DIDN'T see in this or any of his other photos was a taillight.
Quick-and-Dirty bike lights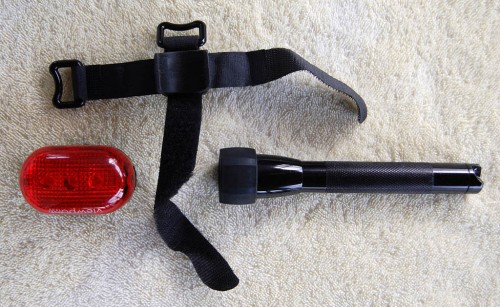 Here's what I keep in my Surly LHT's Arkel Tailrider Trunk Bag for backup and loaner lighting.
I like riding at night and I particularly enjoy introducing newbies to the experience. You can read about my lighting choices here. My failsafe lighting equipment consists of a generic flashing taillight, a Maglite, and a spiffy Velcro strap device to hold the flashlight onto the handlebar.
Here's what it looks like with the Maglite attached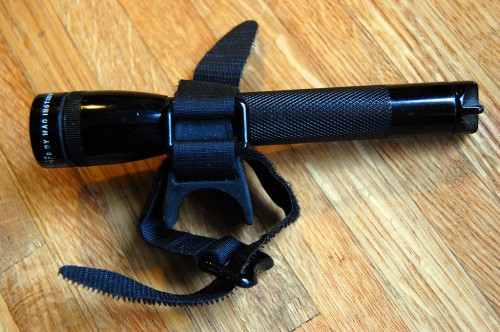 The mount is simple to set up, holds the light securely and has never failed on me. My LBS used to have a jar of them next to the cash register. I've bought half a dozen over the years for less than $5 each. I guess a significant number of my friends have liked them better than I did, because I'm down to my last one.
I'd love to tell you where to find one, but my LBS said they haven't been able to buy new ones for quite a while.
Don't underestimate the tiny Maglite
I used to keep one attached to the side of my helmet to read my computer in the dark, shine at cars who looked like they weren't going to stop and to act as a handfree flashlight. The pinpoint of light is an effective be-seen light. It also does a pretty good job of lighting up the road right in front of you if you don't have anything better.
Review of Flashbak coming
I've been putting off writing a review of the FlashBak since the Fall because I could never shoot a video that does the product justice. I promise I'll have it up in the next few days. This may be one of those cases where a picture ISN'T worth 1,000 words. The darned thing works much better than my pictures show.